Gables happy to be back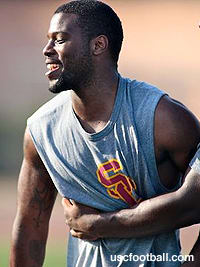 When
C.J. Gable
looks back on last season, he probably won't think about the eight touchdowns he scored or the 617 yards he rushed for.
No, Gable will remember sitting the bench after late-season fumble problems, and the benching made him angry.
The anger almost led Gable away from USC, but instead of bolting for the NFL, he's back on campus with a new attitude written all over his face.
"I was real close (to going to the NFL). I had to see if I was really ready. I really think I was just deciding because of anger out of my situation," Gable said. "I think I made a good decision in staying because I knew I had some maturing to do, and I need to control my anger. I can get mad a lot, and there's stuff I need to figure out before I get to the next level."
And it seems like Gable has figured out that he's got to be in a better place mentally in order to succeed.
"That's when I play better, when I'm happier. I just need to stop letting stuff get to me. I need to brush it off and just enjoy football. It's what I like to do," Gable said. "I want to have fun playing and not be so angry all the time. When I was little, I would get all angry and stuff like that, and then I'd get punished. I started growing up, and things weren't getting to me. Then I got here, and for some reason, it stopped.
"I need to be the real C.J. — happy and getting along with everyone."
Gable knows his head has to be in the right place with tough competition for playing time right around the corner.
"Everything's good right now. I'm just working hard and getting ready for camp. I'm doing what I need to do to have my body ready for this season," he said. "It's going to be tough. All of us, once camp starts, you have to go for yours. We don't have a starter once camp starts. It's not going to be only one person. You know that here.
"You just want to be in the rotation. Everyone will push hard right now."
Sharing carries has been a big part of the USC running attack under
Pete Carroll
, and while Gable knew what he was getting into, it still was a challenge.
"It's kind of tough going into a game, you might think you're going to get a lot of carries, and you don't. People get angry about it. That was me," Gable said. "I have to learn not to be like that because we're still winning. I know I want to get my yards, but I know that we have a ton of good running backs here. If you're hot one game, then you're hot.
"I understand that now, and I just have to deal with it."
And when Gable finally does get to the NFL, he thinks he'll be ready to handle a full load of carries because his body hasn't had to take that punishment.
"It's going to be good because we haven't gotten pounded on. We run one play, and someone comes in and runs the next play. We're always fresh. But I know they'll probably say, 'Oh, can they even carry the ball 20 times a game?'
"We all know we can. We want to. That won't be a problem. Our bodies are conditioned to do that."