Looking back on National Signing Day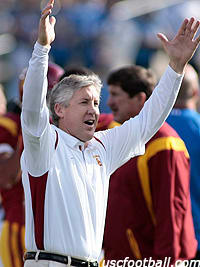 National Signing Day has come and gone, and for the most part, schools around the nations have locked up their newest players and begun to focus their attention on the future.
At USC, the 2009 class isn't necessarily complete, but that doesn't mean it's too early to look back on that crazy day.
There were ups and downs, wins and losses, and compliments and criticisms.
Here's a look at the best (and worst) of National Signing Day.
Best wake-up call
USC's morning got off to a great start with good news out of Narbonne High School with
Byron Moore
's public recommitment.
"We just kept battling," USC head coach
Pete Carroll
said. "He always loved SC; his family loved it and all that. He was just a guy trying to figure it out.
"His heart was at SC. He just had to go and make a couple of visits to figure that out."
Moore's decision bolstered an already strong secondary class — one that only got stronger as the day went on.
Biggest disappointment
This shouldn't come as too much of a surprise, but Carroll and the USC staff thought five-star linebacker
Manti Te'o
was headed to Troy.
They were wrong.
"We were all over that one because he just visited," Carroll said.
Most important fax
Jones picked USC over the likes of Texas, Florida, Georgia and LSU.
"If you see him in the film room when he's playing inside linebacker, he's even more spectacular," Carroll said. "He can play everywhere."
Most common form of praise
This is a tie.
Carroll used "versatile" and "basketball player" to describe seemingly every player USC inked on Wednesday.
Guys ranging Jordan's
James Boyd
to hulking offensive tackle
Kevin Graf
earned praise from Carroll for the performances on the hardwood and the gridiron.
Coaches like seeing guys on the basketball court because it showcases fluid movements and athleticism — attributes Carroll values highly.
In addition to the basketball players, the class is loaded with players capable of moving from one position to another.
John Martinez
, the top-rated guard in the class, will get a look at center. Patrick Hall could line up at cornerback (where he'll get his first look) or offense.
In fact, Carroll hinted the Trojans would toy with the idea of using Hall in a variety of ways.
"Patrick Hall is one of the most diversified athletes and dynamic kids you could imagine. He can play everything…" Carroll said. "
"We want to see him on the defensive side of the ball, but it won't take us long to continue to find ways and experiment with him in terms of getting the ball in his hands. He's one of the fastest kids we've seen in a long time."
Fastest impact
USC might not be getting a more physically and mentally ready player than defensive end
Devon Kennard
.
The five-star prospect is rehabbing from knee surgery, and that should have him in great shape by the time he arrives on campus.
Plus, with
Clay Matthews
gone, USC is looking for someone to rush off the edge and still be able to step back in coverage.
"He can cover, he can rush, and he's a great edge rush guy. He can play one-on-one coverage on tight ends and shadow receivers when he has to. He's played on the offensive side of the ball," Carroll said. "He's just a gifted player who has a tremendous upside and we think he's got a chance to help us right away and be a factor in our rush corps from the beginning."
Weirdest phenomena
Maybe the strangest part of the day was the cloud of negativity inside of Heritage Hall after USC missed out on Burfict, Te'o,
Alshon Jeffery
and
Randall Carroll
.
Reporters asked about the guys USC missed out on. Fans on the message boards vented about the inability of Carroll to close with some big-name guys who were on the fence headed into Wednesday.
Still, USC's class is loaded with elite talent.
The thing is, most of USC's top signees were locked up well before National Signing Day.
Had any of those players waited to announce on live TV on Wednesday, the perception of USC's class would've certainly changed.