Preview: USC vs. Kansas State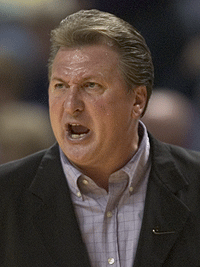 BY THE NUMBERS:
Records: USC (9-2); KANSAS STATE (8-3)
Notable Wins Over Potential Tourney Teams: USC (LBSU, GWU); KSU (None).
Conference Ranks: Offense, Defense, Notable. (Note: Pac10 stats are not updated through the Longwood game)
USC (Pacific 10): 6th scoring offense (72.0 PPG), 2nd scoring defense (58.2 PPG), 1st FG % defense (33.3%).
KSU (Big 12): 8th of 12 scoring offense (74.2 PPG), 7th scoring defense (66.4 PPG), 2nd rebounding (44.0 RPG).
PLAYERS TO WATCH:
USC:
F Nick Young 16.0 PPG, 4.6 RPG.
G Lodrick Stewart 16.0 PPG, 4.6 RPG.
F Taj Gibson 12.8 PPG, 10.1 RPG.
G Gabriel Pruitt (expected to see first action of the season).
LU:
G/F Cartier Martin 15.8 PPG, 3.9 RPG.
F Bill Walker (2 games) 13.0 PPG, 4.5 RPG.
G/F David Hoskins 12.5 PPG, 5.2 RPG.
G Lance Harris 11.5 PPG, 4.3 RPG.
NEED TO KNOW:
No place like home: USC is 1-1 away from the Galen Center, defeating George Washington in Anaheim during the Wooden Classic and losing a close battle to Kansas in Lawrence. The Wildcats are 2-3, losing badly early in the season at New Mexico and Cal, but defeating North Dakota State and Rutgers.
Welcome to the Neighborhood: This season sees two fresh new faces in Manhattan: Former Cincinnati head coach Bob Huggins and the highest ranked recruit ever to step on campus at KSU, Freshman Bill Walker. Walker graduated early from high school in order to be eligible as of December 17th. In his debut, Walker scored 15 points and grabbed 7 rebounds in just 22 minutes of action in a big win over Kennesaw State.
Welcome BACK to the Neighborhood: Friday is expected to be the first game of the season for 1st team All-Pac10 PG Gabriel Pruitt. Pruitt was suspended for the early part of the season due to academics but will be back in good standing as of the 22nd. He averaged 16.9 points per game last season as the unquestioned leader of the Trojans.
Winner, here is your prize: The winner of this match-up will likely face the #8 Wichita State Shockers the following day in Las Vegas. Wichita State must defeat New Mexico in the second match-up of the evening on Friday though first. This year, the undefeated Shockers have already won at LSU and at Syracuse.
Still the One: USC continues to lead the country in field goal percentage defense at 33.3% [actually, Connecticut is also at 33.3% when figures are rounded. Officially, USC is holding opponents to 33.27 % (197 for 592), slightly better than UConn's 33.33% (185 for 555)].
LAST GAME:
Nick Young and Lodrick Stewart continued their consistent play, each scoring 17 points in leading USC to a 83-53 rout of Longwood University. Taj Gibson added 10 points and 10 rebounds for his 6th double-double of this, his first season at Troy. The stout USC defense held Longwood to a season-low 29.4% from the field overall. Longwood missed 20 3-point attempts, going 7 for 27 for the game.
THIS WEEK--KEYS TO A TROJAN VICTORY: The million dollar question for this game is "Which Kansas State team is going to show up in Las Vegas?" Will it be the team that lost by 30 at California or the team that has beaten their last two opponents by a combined 49 points? The common denominator in the latter example is freshman Bill Walker, the highest-rated recruit to ever attend KSU. The game-changing Walker has averaged 13 points and nearly 5 rebounds per game in very limited action and instantly alters all match-ups on the court. To compliment Walker, KSU has 3 very consistent scorers, each averaging double-figures (and two more players average 7.5 points/game each). Essential to this game will be the rebounding factor. USC must control the boards against KSU, a very big team in terms of their overall line-up. Of KSU's 6 top scorers, only guard Blake Young is below 6'5". 4 other players above 6'9" also see action for the Wildcats. The athletic Trojan big-men must hold their own against the Wildcats, boxing out all-day against a team in which all 5 guys love to crash the boards. These same big-men must stay out of foul trouble as well. USC is the much faster team in this battle, and the Trojan guards must exploit their advantage. They also must use to this speed to crash the basket and to get out and run against a team that has been inconsistent defensively. The Wildcats have not been a great shooting team either, though the recent eligibility of Bill Walker will surely change this over the course of the season. One final key will be the USC ability to limit turnovers, the definite thorn-in-their-side thus far this season.
PREDICTION: Though both teams have recently hit their stride offensively, expect this game to be lower scoring than recent trends. The pestering USC defense will get a huge addition with the expected return of 1st team All-Pac10 guard Gabe Pruitt and his 17 points per game. Expect Pruitt to be eased into action but still have a big impact on this contest. Right now, USC is the better team on both ends of the floor but this may not be the case towards the end of the season. If the USC bigs can stay out of foul trouble, expect the Trojans to face Wichita State on Saturday.
USC 68 Kansas State 64