Trojans and Tar Heels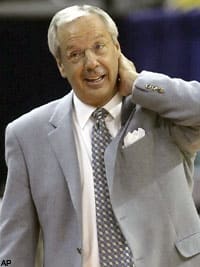 The Trojans have surpassed all expectations with this season's third place finish, conference tourney final, and advance to the Sweet 16. Beating a streaking but flawed Arkansas is one thing, as is beating a hot but one dimensional Texas team.
Now the Trojans get North Carolina, a clear #1 seed who has beaten the likes of Tennessee, Kentucky, Virginia, and Ohio State. The Tar Heels tied for the ACC regular season title, won the ACC Tournament, and won both of their NCAA tourney games by double digits. With the possible exception of UCLA, this is the best team that SC has faced all season. Can they win this game?
THE PLAYERS
Everything starts with 6-9 sophomore forward Tyler Hansborough. He is a dominant post player who is quick, strong, and gives 100% effort at all times. He has garnered the nickname "Psycho T" for that reason. He is the team's leading scorer and rebounder, and he lives at the free throw line. SC will probably have to use all four of their big guys extensively so they can have fouls to give.
6-9 freshman Brandan Wright is Hansborough's frontcourt mate. He is more athlete than basketball player, but he is an outstanding athlete. He is not a true post player, and he does more with tip dunks and offensive rebounds than anything else. He can alter some shots in the lane though.
5-11 point guard Ty Lawson is a speed demon. He reminds me of former UNC point Ray Felton. He's extremely quick and loves to go the hole. He's not a bad three point shooter either. 6-4 freshman two guard Wayne Ellington will pair up with Lawson. He is the team's designated three point shooter, and shoots them pretty well at 38%. About half of his shots are threes. In that way, he is a little like Lodrick Stewart, but he is a better athlete than Lod.
Playing the three is 6-8 senior Reyshawn Terry. He is the team's best three point shooter by percentage, but he can be passive offensively. He was highly recruited, but has never been able to reach the lofty standards set by UNC fans.
North Carolina is extremely deep. They will play ten or eleven guys every game, and they have to because of the pace they set. Danny Green is their leading scorer off the bench, a three point bomber who has struggled to find consistency. Marcus Ginyard gives the Heels defense off the bench at the guard position. Bobby Frasor is the back up point, but he has struggled with stress fractures in his feet. Wes Miller is another streaky three point bomber. Californian Deon Thompson is usually the first big man off the bench, and he has given them a spark at times.
The Tar Heels are extremely talented and extremely deep. Their skill sets fit perfectly into the type of game that coach Roy Williams likes to play.
THE SCHEME
North Carolina is all about pressure on both sides of the court. They want to establish a fast paced game so they can use their athletes against you. They are dominant when they are in transition. Lawson is outstanding at leading the break, and will run off made baskets, even by himself. The Tar Heels have a ton of guys who can run and finish. As a result, transition defense will be huge.
North Carolina uses two main methods in their halfcourt sets: trying to get the ball down low to Hansborough, or trying to get Lawson into the lane. They will use the pick and roll to free him, or if they sense point guard weakness defensively, they will merely attack with Lawson straight up. The team is extremely unselfish, and they average 18.6 assists per game. They will look for the open man. If they have any weakness offensively, it's that sometimes Lawson can get out of control. Don't expect him to be passive like Augustin was for Texas.
Defensively, the Heels like to play pressure man to man defense. They will get up in your face and go after you. Sometimes they will stretch this philosophy full court, and I wouldn't be surprised if they did that against USC. They want to force turnovers to get them into their transition. As a result, they are susceptible to dribble penetration. Last year the Trojans hammered them with the dribble, and Virginia Tech beat them twice this year by getting their guards into the interior. The Heels are always intense defensively, but sometimes they can be a little sloppy and over-aggressive. In their losses this season, opponents have shot 53%, 53%, 61%, 38%, 50%, and 52%. Virginia Tech was able to hand them their only home loss even though they did not shoot well because their dribble penetration got them to the free throw line 30 times.
THE MATCH UP
In my opinion, this is the best possible one seed for USC to be matched with. Ohio State has size, which would be tough for USC to deal with. So does Florida, and they have tournament experience to boot. Kansas is similar to North Carolina, but they are far better defensively and they shoot the ball better from the perimeter, plus they have already beaten SC this year.
Two things have to happen for SC to have a chance in this game. The first is that UNC cannot have a big game with their transition. If they do, SC does not have a chance. The Trojans don't have the depth to run with North Carolina. Second, the Trojans have to force the Heels to shoot from the perimeter in the halfcourt. If Lawson gets in the lane too much, or if Hansborough is able to get plenty of touches in the post, SC is cooked.
Fortunately for SC, North Carolina doesn't have overwhelming size. They have no one over 6-9, and if SC starts Cromwell or Wilkinson, they will actually have a size advantage. North Carolina should still have a heavy rebounding edge, but the Trojans are a shocking +21 in rebounding margin in the tournament.
USC almost has to start big. If they started Hackett, they would have to put Taj Gibson on Hansborough, which could be a recipe for disaster because of all the fouls Hansborough draws. If Gibson gets in foul trouble, the Trojans will have a tough night. As a result, Cromwell will probably get the start. The Trojans will go small at times, but they may need to wait until Hansborough takes a breather.
The good news for SC is that Texas was similar to UNC in many ways. Texas liked to run and gun as well, and played most of their games in the 80s. Texas has a point guards that can get into the lane and wreak havoc. Texas' second leading scorer was an athletic true freshman shooting guard who likes to take aim from the three point line. Texas was also spotty at times on defense.
The main differences are that UNC has a true post game with Hansborough, UNC has more weapons offensively, and they have a far better coach than Rick Barnes. So any thoughts about coming out and putting a beatdown on North Carolina need to be left right here.
However, USC can slow transition, as they have done all year and as they did against Texas. USC can slow down a 5-11 point guard and keep him out of the lane, as they did against Augustin from Texas. USC can defend for forty minutes, as they did in the first two games of the tournament. Most importantly, USC can take away the post game of a 6-9 player and try to force a team to beat you from the perimeter. They did that against Texas, and they did it against North Carolina last year.
North Carolina's six losses have formed a familiar pattern. All but one of them featured a very poor defensive effort, including giving up percentages of 57%, 54%, 53%, 39%, and 46% from behind the arc. All of them featured North Carolina shooting under 50%. The Tar Heels averaged 15.7 three point attempts per game, but in their losses, they averaged just under 20. In those losses, they shot 23%, 31%, 27%, 18%, 35%, and 21% from three point country. In those games, Ellington and Terry combined to shoot 25% from behind the arc in 52 tries, and 35% overall.
SC will not demolish North Carolina as they did Arkansas and Texas, but they will get them to play out of their comfort zone, just as they did to those previous opponents. Both those teams combined to shoot 48 threes in those two games. Hansborough will get his points and foul shots off post play and offensive rebounds, and Lawson will get the occasional lay up on the run. But SC will keep him out of the lane for the most part as they did Augustin, and they will force some turnovers from him when he gets frustrated, since he won't be passive like Augustin. SC will force Ellington, Terry, Miller and Green to beat them from the perimeter. The Tar Heels will be out of their comfort zone, and the Trojans will take advantage of North Carolina's inconsistent defense with dribble penetration and kick outs for threes to pull the stunner of the tournament.
USC-81, North Carolina-78
Questions, comments, or info? Contact me at tvenegas@comcast.net.