Who is Stafon Johnson Part I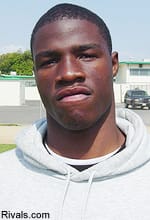 In the world of recruiting, Christmas comes in February and New Years comes in May. As the recruiting year winds down and USC's class of 2005 takes shape, a new year with new names glimmers on the horizon. Los Angeles (CA.) Dorsey running back
Stafon Johnson
is one name that will glimmer now, but gleam come the May evaluation period. Johnson is one of, if not the top player in California next season. USCFootball.com caught up with his dad to find out why.
As prospects go, Stafon Johnson could be the best football player to come out of the city section in more than a decade. High praise for a young man not yet finished his junior year at Dorsey High School, but Johnson has been under the watchful eye of scouts since he was in Pop Warner. The 6-foot, 196-pound All-City, All-State junior was as dominant then as he is now.
"He was a sensational Pop Warner player," said Stafon's dad Stan Johnson, who is a track coach at Dorsey. "When he played Pop Warner, he never came off the field. Punt return, kick return, running back, quarterback, defense – wherever the coach needed him he would play.
"There were times when they were getting killed and they would put Stafon at defensive end, or defensive tackle. He's just a tenacious kind of player that doesn't know how to give up."
At one time or another it seems Stafon Johnson has played every position possible, which is common for a player with his ability. Although he has never attended a combine or team football camp in his life, this spring could change that.
"If a quarterback doesn't walk into Dorsey soon, we could be headed to a couple of quarterback camps because we (Dorsey) don't really have a quarterback next season," said his dad. "He's played that position before, but he needs to become more familiar with passing the ball."
Playing quarterback may be in Stafon's immediate future, but his father sees him carrying or tackling the rock in college rather than throwing it. The only thing in his way may be genetics.
"He's a real good back, but he can also play strong safety or free safety – anywhere in the secondary," said his dad. "But Stafon could also grow into a creature. He keeps his weight down real good because of track, but he could easily go 215, 230-pounds in college.
"If he doesn't get much bigger, than I think he's a back – period.
"He's a cross between LenDale White and Reggie Bush. The thing about Bush is, he's just so damn fast, and he can cut on a dime. But Stafon has great patience and his feet are amazing. He can come in and be a third-down back when you want to throw it, but he's not lacking size, so he can also get than one-yard like White."
Being such a versatile athlete, there's no doubt that some college scouts and coaches will have different views on which side of the ball Stafon should play. Many colleges may not see the need to recruit him at any specific position at all, which his dad understands.
"Stafon could probably go to any school in the country and play defense. He's a ball hawk, so there would be no disrespect if a coach came in and said they wanted to recruit him as a safety or corner.
"But I see him as a running back. I mean, 2,500-yards as a freshman, 1,400-yards his first year against the big boys and 1,800-yards last year splitting time is pretty impressive."
Impressive credentials, but Stan Johnson doesn't want his son to rest on stats.
"He needs to improve in the weight room, and maybe improve his speed. I mean, he has speed; he could probably run about a 10.6 hand time, but he could still improve."
Although it's too early in the process to name a concise list of favorites, Stafon is receiving plenty of interest from schools all over the country.
Find out what schools Stafon Johnson is hearing from and what interest the Johnson family has in USC in part two of this story tomorrow!
Continue to stay with USCFootball.com as we reveal our premium updates for the class of 2006 and beyond.