Wilson undecided on transfer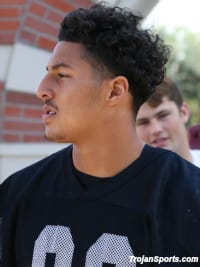 TrojanSports.com broke the news today that walk-on freshman tight end Caleb Wilson has been granted a release from USC. We later caught up with Wilson, the son of former USC defensive line coach Chris Wilson, and he said is still considering whether it's in his best interest to find a new school.
"I am considering transferring," Wilson said. "I've gotten my release from USC but Coach (Clay) Helton is allowing me to be a part of the team and he wants me back on the team next year, to be a part of this team. But because of my dad's departure from the team, my financial situation, tuition has changed. So I just want to explore my options to see if I have scholarship opportunities elsewhere. (Helton) is allowing me to venture out and talk to other schools but he's giving me an opportunity to be a part of the bowl game experience and be a part of the team. So as of now, I'm still part of this team but I'm just communicating with other schools to see if I have a scholarship opportunity."
Wilson, a 6-foot-5, 225-pound tight end, clearly thinks highly of his teammates, his coaches and his current school. He's just looking at other options.
"There's no hard feeling with USC or anything like that," Wilson said. "This is all for me, I just want to venture to receive scholarship opportunities, I don't want anyone to think there's hard feelings between me and Coach Helton because there's not. He's been supportive of me. My dad's departure was a business decision for the team and there's no hard feelings for that, it's a part of the business, I've been around it for a while. I don't want people to think there's anything towards me and USC."
Wilson plans to make his decision soon and avoid being a distraction. He'll know his plans shortly after the bowl game.
"Coach Helton has been helpful throughout this whole process and my parents have too," Wilson said. "With my dad's connections as far as being in the coaching world, I know a lot of people in the business. But I want to figure it out before I start this (next) semester in school, I want to figure it out before Jan. 11, so I can either start school where I'm going or start school here during the upcoming semester."
Since he has nothing but positive feelings towards his current school, only one thing could get Wilson to transfer. That would be a scholarship.
"If I have a scholarship opportunity and another team sees value in me, and it's a good situation for me and my family, then I'll take it," Wilson said. "But if I don't have any better opportunities, there's no place I'd rather be than USC. It's the best school available. I love it here, I have great friends here, but I eventually do want to be a scholarship player and I want to take that weight off of my parents, having to pay for school. So if I do get that opportunity, I'll venture out, but I have no problem with staying at USC either way."
This decision is almost purely financial. Wilson said he would stay at USC if he was on scholarship, but that offer has not been made and doesn't appear to be coming. Because his father is no longer on the coaching staff, his family would have to pay his full tuition bill if he decided to stay at USC now. Apparently, Wilson already had to pick up a big tab his first year at the school.
"My dad's financial aid didn't kick in until the second year so they did have to pay the first year," Wilson said.
His dad is now a coach at Missouri and Wilson could probably have some sort of opportunity with the Tigers if he was interested. He just hasn't thought too much about that idea.
"I haven't talked to Missouri as of now," Wilson said. "I enjoyed playing for my dad, it was one of the coolest parts and one of the most fun things in the world. It's one of the reasons I came to USC, but I don't know. If Missouri was a scholarship opportunity, I would definitely consider it. But I haven't talked to them yet."
In fact, if Missouri wanted Wilson to walk-on, he doesn't think he'd do it.
"I want to be a scholarship player," he said. "I feel like I can compete after going against guys like Su'a (Cravens) and going against the great players at USC so far. I've realized I can play at a high level and that's what I want to do eventually, is be a scholarship player."
So what schools do have Wilson's eye? One program that had his attention in high school seems to be back in the mix.
"I've been in contact with Old Dominion, where I used to be committed to, and they opened the door to me, and a few other schools. But nothing to serious," Wilson said. "Old Dominion is the most serious at this point but everyone is either on break or getting ready for a bowl game, so I haven't been able to have communication with too many schools yet."
He said Texas A&M requested his film and he's also been in contact with Jacksonville State.
"Right now, I'm a Trojan and I'm helping out and doing all I can to get this team prepared and work hard in service period. So right now I'm a Trojan, I'm going to finish this bowl week up strong and then I'll take it from there."
There's a chance that Wilson will have to deal with NCAA transfer rules before he suits up to play anywhere else; he isn't certain if he would have to sit out next season.
"I'm not sure about that because of my situation with not being recruited and my dad's situation, I don't know how it would work out," Wilson said. "But if I have to sit out, that's a part of the deal. But it would be nice if I didn't have to."
He does know that he can transfer to any school he wants.
"Coach Helton also cleared me to where I could transfer to any school in the country, so Pac-12 schools aren't ruled out," Wilson said.
This could even give Wilson a chance to re-invent himself as a player. Wilson started at quarterback for Gardena Serra in 2014 before relinquishing the job to 2016 recruit Khalil Tate. Wilson then moved to tight end. Coming out of high school, other schools were interested in him at quarterback.
Wilson isn't sure what the future holds but said he is comfortable at tight end.
"I think Old Dominion would be interested in me as a quarterback at first and if it didn't (work), I could easily evolve into a tight end," Wilson said. "I also just think being here, I enjoyed the tight end position and I think I can do something at that position. So at this point, I think my future would be at tight end."