Byron Moore leaving USC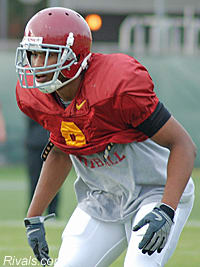 Safety
Byron Moore
has decided to leave the USC football program.
The redshirt freshman from Narbonne High School switched from cornerback to safety prior to 2010 spring practice.
He was expected to compete for playing time this season in USC's young secondary.
Rumors about Moore's departure started to circulate a few days ago and on Wednesday they were confirmed by Moore's father, Byron Moore Sr.
"Yes it's true," Moore said via text message. "He wants a fresh start."
According to his father, Moore was not leaving the program due to the NCAA sanctions.
Being a redshirt freshman, Moore was not eligible to transfer to another Football Championship Subdivision (FCS) program without sitting out one season.
Moore is attending Los Angeles Harbor College, a junior college in Wilmington, California.
Moore Sr. asked the USC community to keep Byron in their prayers.

Click
Here
to view this Link.