Carroll announces 09 class for now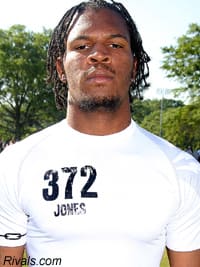 By the time to sun set, that list looked pretty different.
Carroll announced the Trojans' 17-man class Wednesday, and the names he rattled off made just as much news as the ones he didn't.
"We were surprised in a couple of kids that we were recruiting and thought we had a good chance to get that, and for one reason or another, wound up going somewhere else," Carroll said. "We were surprised to land a couple of these kids from out of state, Jarvis and Frankie, and there are a couple of guys that we continue to recruit that are still out there that have yet to make a final decision."
The guys Carroll did land Wednesday, though, all seem to fit a certain profile. They're athletic. They're fast. They're versatile.
"We have put together a diversified class that we needed to get," Carroll said. "We needed to get more on defense than offense this year. The guys that are in the class are such dynamic guys and have so much ability to add so much to the team, we're really excited."
Carroll addressed each player in the class.
The top-ranked player in USC's recruiting class didn't even sign a letter on Wednesday.
"He's a big-play guy with great speed — makes all kind of plays and is a terrific kick returner as well. He makes plays on defense as well," Carroll said. "We want him as a wide receiver in the Z spot, and we're really pumped about him. He's a track guy and very fast. He's explosive on the field and on film. I really love the way he plays."
"It is the first time in a while where we've hit a fullback. We're thrilled about getting that done…" Carroll said. "We've had a hard time finding guys that fit the bill, but Simi is one of those guys. He comes here with an opportunity to do that, of course, and also be a special teams kid because of all the work he's had at linebacker."
"I think he was coming to the eighth-grade camps when he was in fourth grade he was such a big kid. He's been around us forever," Carroll said. "He comes from an SC family. His brother (Derek) played here and his dad (Allan) played here, offensive linemen from the day they were born...
"He's one of the most complete players that we've had at the offensive line at this early age and a great deal of credit goes to his coaches of course, but also from the upbringing from his family and the camps, he's really well equipped and can vie for the best kid at his position with anyone in the country. We're really thrilled about him."
But, the main emphasis in the 2009 recruiting class was defense.
"We lost a lot of kids that played a lot of football for us at linebacker and the rush spots," Carroll said. "We went hard there."
"He can cover, he can rush and he's a great edge rush guy," Carroll said. "He can play one-on-one coverage on tight ends and shadow receivers when he has to. He's played on the offensive side of the ball. He's just a gifted player who has a tremendous upside and we think he's got a chance to help us right away and be a factor in our rush corps from the beginning."
"We've seen him run very, very fast. He's got great speed and size," Carroll said. "He could play defensive end and outside linebacker, he's got that kind of body type at 6-3, 237. He could play both and we'll see how he fits in. He runs so fast and gets up the field rushing the passer. You never have enough guys that can do that."
USC got another one of those guys in Jones.
"He's an all-around athlete — explosive, dynamic, an excellent basketball player and might have a chance to play on the basketball team. He's that dynamic," Carroll said. "He attacks and rushes up the field. He's a great blitzer and cover guy and we're ecstatic that we're able to get Jarvis.
"We think he'll have a chance to play and contribute and compete for playing time immediately when he gets here."
USC bolstered its linebacking corps with Telfort, and Carroll raved about the speedy Floridian.
"He's so explosive and is such a feisty kid. He's a kid that led their football team as the playcaller on defense," Carroll said. He's got an enormous understanding of defensive football and adjustments that would" knock you out — like way beyond anybody we've ever talked to about understanding how to make checks and audibles and how to change defenses. He talks like he's a junior or senior in college and maybe even more than that."
"He's been a leading tackler and a guy that makes everything happen," Carroll said. "He's an obvious penetrator and a guy that blitzes very well. He's an outside speed guy and runs sideline to sideline and a kid we've watched grow up in the program."
"We want to see him on the defensive side of the ball, but it won't take us long to continue to find ways and experiment with him in terms of getting the ball in his hands," Carroll said. "He's one of the fastest kids we've seen in a long time."
"He's got great ability, speed and is a dynamic player. He scores touchdowns from everywhere, catches passes, runs out of the backfield," Carroll said. "(He) played safety and corner in high school and is an extraordinarily gifted kid that gives us great diversity. He does all the things that you want a terrific football player to do. He's a big get."
"He's a gifted player and student, a great leader and just everything you're looking for. His dad played here at USC, Tim McDonald…" Carroll said. "They are the spitting image of each other. They are the same size and stature and playmaking ability and leadership qualities and all those things."
"He's a really, really gifted athlete," Carroll said. "He's one of those guys who can do a lot of stuff. We're going to feature him at a corner. He looks perfect."