Crouse leaning towards college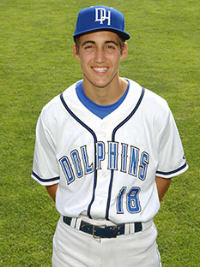 Dana Hills, Calif. HS class of 2017 pitching sensation Hans Crouse recently committed to the USC baseball team and Trojans have a family connection to thank. Crouse is the brother of USC freshman pitcher Marrick Crouse. Marrick was the first in the family to attend college and enjoyed USC so much, that he recruited his brother to join him.
"He was recruiting me really hard," Crouse said of his brother's efforts to sell him on USC. "He text me everyday about it because he knew I took trips to TCU and Arizona State and I was going to visit LSU and Clemson. But as soon as my brother came home from school and talked to me about it, I just saw how much fun he was having. I just knew, why wait because USC was going to be the place."
Crouse said that he was always considering USC, but his brother's influence made a huge impact.
"Since he decided to go there a couple months ago in his senior year, it really was the place I knew was going to be the right fit for me," Crouse said.
He also credits the campus's proximity to home and family, and a close connection with USC's 2017 class as being influences on his decision. The USC coaching staff also gets credit. They've been recruiting the 6-foot-4, 170 pound prospect for years.
"Well Coach (Gabe) Alvarez and (Dan) Hubbs recruited me probably since my freshman year of high school," Crouse says. "I really got along with Alvarez, he took me on all my recruiting trips and Hubbs, I just felt really comfortable with him right away. He's a pitching guy and the relationship has really progressed, just being able to talk with him on the phone about pitching or school or whatever it is."
Those coaches have another recruiting job ahead of them in regards to Crouse. The young prospect has pro teams excited to sign him.
Crouse, who also plays high school basketball, is ranked as the #5 overall baseball prospect in the 2017 class by PerfectGame.org. That's probably because of his fastball. He can reportedly throw 95 miles per hour.
That's why USC's coaches are trying to sell the idea of an immediate, and important, role on the team
"I asked coach that question before I committed and he said I would have a really good shot at being a top weekend, Saturday, Sunday guy or the closer coming in as a freshman, making an immediate impact," Crouse said. "So that's what really also helped me make my decision too. It means a lot just showing confidence in me at a young age, being a freshman to really fill in and get the job done there."
Contributing early might not be enough to keep Crouse from going pro immediately, but there is hope. He say the financial gain from being drafted would have to be "life changing" to sway him away from USC.
"I think school is the right fit for me honestly because I really want to enjoy the college aspect of it, just getting connections for life, getting a good education and being with a great group of guys and winning a national championship because we're going to have a really good shot in the coming years at 'SC to do it," Crouse said. "But at the same time, if the money's there then I know you only get one big shot at getting drafted unless you're like the guy in college to. If the money's there, it's going to be tough but I'm definitely leaning towards school right now."