Flores homer finishes Fordham sweep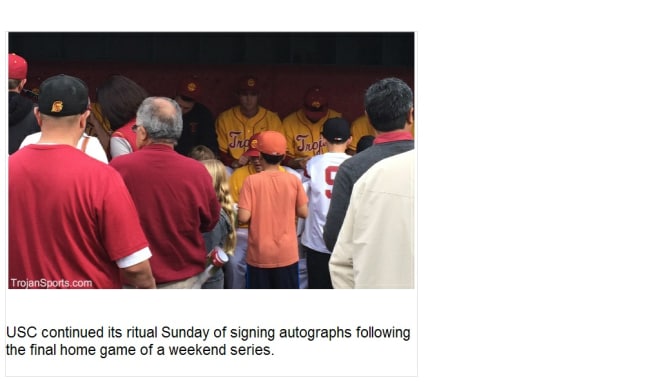 This time, Dante Flores delivered the big hit.
The senior second baseman tied a career-high with five RBIs, including a three-run homer, as USC finished the sweep of Fordham with a 10-1 win Sunday afternoon at Dedeaux Field.
Flores picked up his first RBI on a sacrifice fly in the first inning. Then, his three-run blast was the exclamation point on a seven-run fourth inning for the Trojans. His final RBI came when he reached on a fielder's choice with the bases loaded in the sixth.
"It was a great feeling to hit the home run," Flores said. "I faced the guy yesterday and saw all he had. I knew I had a good shot against him. As soon as the ball goes up in the air and you hear the crowd yelling, it was a good feeling. It was a boost that it put the game away and we didn't have to worry about anything the rest of the game."
Mitch Hart looked solid in his second start of the season for USC (12-0). The freshman right-hander went seven innings and struck out five while walking one. He only gave up two hits, and the run he allowed was unearned.
"He got a couple strikeouts looking inside early in the game," USC coach Dan Hubbs said. "It kept [Fordham] conscious of that, cause they've really been trying to go the other way. I also thought he was able to mix in three different off-speed offerings."
Hart also was given plenty of support.
For the second consecutive game, Bobby Stahel and Garrett Stubbs led off the bottom of the first with singles against Fordham (1-7). Jeremy Martinez knocked home the first runner of the game with a single, the third consecutive one of the inning. After the sacrifice fly by Flores off of Fordham starting pitcher Kirk Haynes Jr., USC found itself with an early 2-0 lead.
Hart retired the first six batters he faced, including picking up two strikeouts. He only gave up two baserunners in the first four innings, before the Trojans blew the game open.
The bottom of the fourth started with a Blake Lacey walk, and David Oppenheim advanced him to third on a bloop double to left field. Joe Corrigan hit a sacrifice fly to give the Trojans a 3-0 lead. Reggie Southall continued his hot hitting with a bloop double to right center to bring home Oppenheim. Stahel got an infield single after, which knocked out Haynes Jr. from the game.
Fordham brought in David Manasek from the bullpen, and he promptly gave up a single to Stubbs to load the bases. After striking out Martinez, USC had two big two-out hits to open up the game. Timmy Robinson had a two-run single to put the Trojans up 6-0, with Flores following it up with a blast that was the biggest blow of the game.
USC finished with 12 hits.
"We didn't force swings as much today," Hubbs said. "We got some pitches that were elevated that we could stay over the top of to get the job done. Yesterday, I felt like we were swinging at breaking balls at the shoes and elevated fastballs that were outside of our strength."
Hart's final two innings, the sixth and seventh, were his toughest. But he only gave up one unearned run despite two USC errors, a single, a walk and a hit by pitch over those two frames. Mason Perryman and Andrew Wright finished the game by each tossing a scoreless inning.
USC will play UC Santa Barbara on Tuesday night, before a huge weekend in which the Trojans play games against TCU, Vanderbilt and UCLA.
The 12-0 start is definitely a step in the right direction, but this upcoming week will show just how far the Trojans have come. The team feels that this year's squad is different from last year's version that started off 7-0.
"We are more mature this year," Flores said. "Last year, we won a couple games in extra innings and we were coming back. This season it's been different. We've been coming right out of the gate. We're taking extra bags. We're playing all aspects of the game better this year."
"I think that this group is more comfortable winning," Hubbs added. "Last year, it kind of took them by surprise. We got off to a hot start, then scuffled, and then we regrouped and figured it out in the last half on the season.
"I think that that last half has carried over to this year, where they believe they're really good. And they're playing like it."