Going after the NCAAs underbelly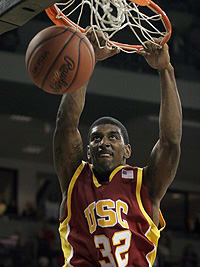 Could the next stop for the troubling NCAA case against USC and Todd McNair be Washington?
If one very busy USC alum, Joe Shell Jr., a legal analyst by profession, has his way, Congress is exactly where this affair could, and should, be headed.
Shell, a longtime Trojans football fan, has been using his legal background in recent months to try to figure a way for USC and McNair to defend themselves. But the legal analyst for a major Long Beach law firm finally came to this reality.
This case is a lot like football. The best defense might be a good offense.
Shell is moving on a two-track approach right now. He's questioning the truthfulness of the NCAA's previous due process guarantees in its testimony to Congress and challenging its tax-exempt status for not living up to its charter and mission statement.
"The only way to get to the NCAA is to get to their underbelly," Shell says. "And their underbelly is Congress. Congress can actually do them in."
But is there a way to do that, Shell wondered. How to make the NCAA answer to Congress for its dozens of violations of due process against McNair in the USC case?
How do you call the NCAA on the carpet? It pretty much acts as its own prosecutor, judge, jury and court of appeals. And lawsuits are difficult to pull off by members of a voluntary organization, history has shown.
So how do USC and McNair get a fair hearing here?
That's where another USC alum, Los Angeles lawyer David McLeod, came in. He reminded Shell of something he'd remembered from back in 2004.
A little legal research tracked down what McLeod thought he'd recalled. In 2004, the NCAA had given testimony to the Constitution Subcommittee of the House Judiciary Committee guaranteeing that the accused in NCAA cases would receive due process protections second to none.
Anyone reading the USC and McNair case files, and a series of USCFootball.com stories on the NCAA's many problems there, would know that's not the case, Shell realized.
"Due process is a big deal," he says. "None of what the NCAA has done here would ever fly in a court of law."
So Shell went on analyzing as he put together a file of all the material he could come up with highlighting the NCAA's many missteps.
He's starting out by getting it to the member who made that 2004 NCAA hearing request -- Alabama Congressman Spencer Bachus. He seemed least convinced by the NCAA's due process guarantees in his questioning.
Presumably, Bachus is as interested as ever, Shell said, now that the spotlight on the NCAA has never been brighter. The recent Cam Newton/Auburn and Ohio State rulings less than six months after the USC decision make that clear.
Bachus' staff is already in possession of the 130-page, 3/4-inch thick briefing binder that Shell has prepared. But he's not stopping with Bachus.
Other USC contacts have proceeded with two powerful Congressmen from Southern California. The staffs of Vista's Darrell Issa, whose Oversight Committee will handle many of the investigations in the new Congress, as well as that of David Dreier of San Dimas, new chair of the powerful House Rules Committee, have also received the Shell's briefing book.
Senate staffs who have received the NCAA/USC file include those of Utah's Orrin Hatch, Iowa's Charles Grassley and Montana's Max Baucus, all with previous interest in how the NCAA does its business.
Shell's contention to them, based on reading and analyzing the 2004 testimony of the NCAA's expert, Nebraska law Professor Dr. Josephine (Jo) R. Potuto, is that Potuto was dissembling to Congress. In light of the actions in the USC case, there's simply no other way to characterize it, he says.
"My personal opinion, to give her the benefit of the doubt, Ms. Potuto was being deceptive," Shell says of the Nebraska professor who joined Chairman Paul Dee on the Committee on Infractions that harshly penalized USC.
There's a story behind that. Despite having used up her limit of three three-year terms, Potuto was placed back on the COI for the USC case. She replaced Oregon law school professor James O'Fallon, who wasn't allowed to sit on the case of a fellow Pac-10 conference member.
Potuto's presence was a problem, Shell says, despite her testimony to Congress that the NCAA's "enforcement, infractions and hearing procedures meet due process standards. In fact, they parallel, if not exceed, those procedures . . . the NCAA in its infractions process clearly meets and very likely exceeds applicable 14th Amendment procedural protections."
Potuto also said an accused absolutely could confront an accuser at an NCAA hearing.
Bachus said he was surprised, maybe that he had misunderstood, thinking "that you didn't allow people to confront the witnesses."
"I teach constitutional law," Potuto assured Bachus. "We do, and I can give you the bylaw provisions."
That assurance will be news to USC lawyers who did everything they could think of to try to interview, or just sit in on the NCAA staff's interviews, with McNair accuser Lloyd Lake. But USC was rebuffed in every instance, to the point of finally accusing the NCAA of resorting to deliberately misleading them to keep the USC lawyers away from the Lake interviews.
Bachus, in a post-hearing newsletter, realized he'd been had, zeroing in on Potuto's assurance of the accused's ability to confront accusers at an infractions hearing "as nothing other than deceptive."
Here's how that went:
Potuto: "Anybody who appears at that hearing has that right . . . to ask questions of any individuals or party at a hearing."
Bachus: "So anyone charged with an offense has the right to appear at the hearing and cross-examine all the witnesses?"
Potuto: "Cross-examining might not be the correct term for it but certainly the right to inquire of anyone else who appears."
Bachus: "To question the witnesses?"
Potuto: "Of course."
But in his written testimony to the Subcommittee, nationally renowned Tulane Sports Law Professor Gary Roberts, shot Potuto's testimony down, saying such questioning would not be possible.
"Because most of the people with personal knowledge of the relevant facts are not allowed to attend, cross-examination of 'witnesses' is not possible, " Roberts wrote. "Rules of evidence are not followed and whatever the committee allows will be heard. In short, the proceeding is quite informal and haphazard by judicial standards."
Potuto didn't mention that, Shell says. And that could be a problem for the NCAA now.
"Remember what happened to Roger Clemens?" Shell says of the Hall of Fame pitcher who is accused of not telling the truth to a Congressional committee.
Well, if Congress goes back over the hearing testimony as he has, and calls the NCAA and Potuto back to Washington, there could be "a Clemens problem," Shell says. Potuto's words don't match up against the actions of the COI against USC and McNair.
"And not only in this case, in many other cases," Shell says. "The NCAA appears to believe the rules do not apply to them. They are agenda-driven. They decide the outcome, as they did with USC, and then they put together whatever they need to reach that outcome."
Shell makes no bones that he's coming at this from a USC partisan point of view.
The self-described "third-generation Trojan" who lives in Dana Point can remember all the way back to 1964 when he was "sitting in the student section cheering for Mike Garrett. That was the game when Craig Fertig hit Rod Sherman with the touchdown pass for a 20-17 USC win over No. 1 Notre Dame," he says.
He's also a guy who works seven days a week, 11 hours a day, analyzing thousands of legal documents. A case he's involved with now has 1.2 million documents.
So the NCAA file wasn't all that difficult for Shell to digest.
"I'm paid to read documents and come up with the story they tell," Shell says. "If there's a problem, the partners want me to tell them about it right away . . . That doesn't seem to be how the NCAA works."
The first problem that jumped out at Shell, he says, was "the dumbest thing in the whole [Infractions] report -- that first footnote where the staff said that on advice of counsel, the Committee couldn't listen to the Lake tapes. But it was obvious the staff was listening to the tapes. Now if it's illegal for the Committee to listen to them, it's illegal for the staff to. I guess they just think they're impregnable."
His reading of the case, and he hopes the reading Congress gives it, is that: "At the end of the day, the NCAA felt it had to go out and destroy Todd McNair to show a lack of institutional control on the part of USC. And that's what it did."
He thinks Bachus will understand. When the Alabaman asked for the hearing in 2004, in what seems like a precursor of today's news, Bachus said it was to review the NCAA's disparate treatment of two athletes. He wanted to know how the NCAA procedures came to opposite conclusions in similar circumstances.
NFL football player Tim Dwight was allowed to remain eligible and run track at his alma mater Iowa despite taking NFL endorsement money before his final track season. But Olympic skier Jeremy Bloom was ruled ineligible to play football at Colorado after taking endorsement money in order to be able to train as a skier. The NCAA said Dwight didn't know the rule but Bloom did.
In a story on the NCAA Web site, Bachus, a graduate of both Auburn and Alabama, said the NCAA falsely said he'd asked for the hearing to review the recent infractions cases at his alma maters. "An attempt to poison the atmosphere," Bachus said.
Two other issues are at play here, Shell says. During the USC investigation, and without a vote of the membership, the NCAA changed its appeals rules making it much harder for anyone to appeal an infractions finding.
"I think they knew they had the thinnest of cases to do what they were going to do to USC and McNair," Shell says. "And they were getting ready for it."
And a recent 77-page Potuto self-congratulatory law review article on NCAA rules and procedures, the laws that regulate them and the nature of court review, is problematic, Shell says. In it, Potuto concludes: "The NCAA governance structure is about as well-conceived to achieve the goals of its members as is possible in an imperfect world."
Right.
But there is one Potuto recommendation in the article that Shell characterizes as "truly scary." And obviously a shot at the likes of former USC basketball player O.J. Mayo, and others, who refuse to talk to NCAA investigators.
We'll quote it here: "When a former student-athlete is being investigated for the commission of a violation while a student, what additionally should be considered is treating the failure to respond to the allegation as an admission by silence of that violation."
There you go. Good old due process -- in the NCAA or North Korea? You're guilty until proven innocent -- and you must testify against yourself. And to an organization that you've never, as a student-athlete, voluntarily joined.
Discovering a recommendation like that that has Shell looking at the nuclear option -- asking for Congress to review the organization's tax-exempt status.
"That's the only way to get their attention," he says.
Here's how Shell says he'd like to see that go. "The NCAA has a Mission Statement, as all tax-exempt organizations do."
The NCAA's Mission Statement says its "Core Purpose" is to "govern competition in a fair, safe, equitable and sportsmanlike manner." And its "Core Values" include a "commitment to . . . the highest levels of integrity and sportsmanship."
By those standards, the NCAA, Shell says, is failing miserably to live up to its Mission Statement.
"How can the NCAA accomplish its Mission Statement," Shell asks, "when there appears to be a complete lack of integrity in their infractions and enforcement processes?"
Dan Weber covers the Trojans program for USCFootball.com. You can reach him at weber@uscfootball.com.