Introducing the USCFootball.com QB-Rating
Back in 2009, USCFootball.com was looking for a way to breakdown USC's quarterback battle between Aaron Corp, Mitch Mustain and Matt Barkley. That spring we developed the USCFootball.com QBR or Quarterback Rating. We followed every throw each of the three quarterbacks made, plugged the numbers into our custom formula and gave Trojan fans something else to consider as the battle waged on.
We had Barkley as the leader when spring ball concluded, but Pete Carroll named Corp the starter heading into fall.
When fall camp kicked off, we continued tracking the QBR until Corp went down with a knee injury. Again, we had Barkley ahead of Corp according to the QBR. Barkley continued to impress the coaches and ended up starting for the next four years.
With a new battle brewing between Cody Kessler, Max Wittek and Max Browne, we decided to bring back the QBR and track each player's progress.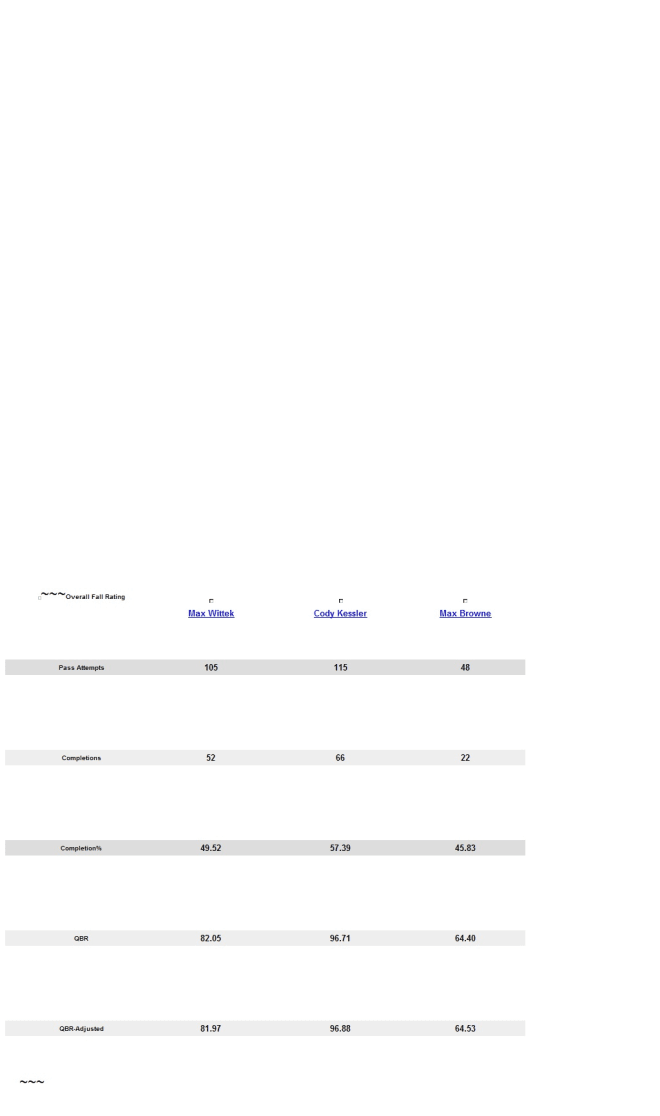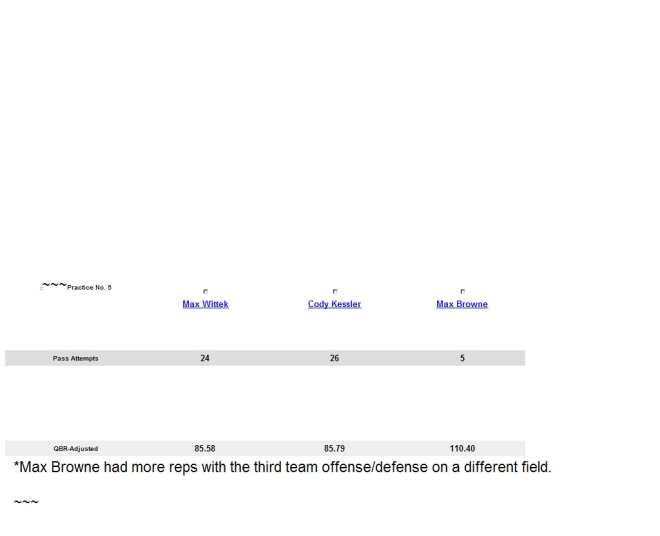 Quarterback Analysis by Chris Swanson:
The leader: Cody Kessler. Kessler had a miserable fifth practice but before that he was nearly flawless. Despite what's said about his arm in comparison to Wittek, Kessler has enough of an arm to get the job done. He can make every throw that he needs to and he usually makes the right one. That's good enough to start and Kessler's proved that so far. The QBR confirms that Cody Kessler is the heavy favorite to win the starting job after the first five practices.
Playing catch up: Max Wittek. Wittek has all the physical tools that you want out of a quarterback, his problem this fall has been decision making. Too often Wittek will try to force a pass in between defenders or throw a ball over the top that doesn't have much of a chance. If he doesn't change his habits and look for his check down receivers, WIttek will lose his job.
Not looking good: Max Browne. While many thought that Browne would be pushing both Wittek and Kessler throughout the fall, he has not really been given the chance to do so. While Kessler and Wittek go head-to-head in team drills against the first team, Browne splits his time between those competitive snaps and the scout team. He's done well when he does get quality reps, but he won't start unless something changes fast.
QB Notes:
The defense is always ahead of the offense this early on.
The receivers had an awfully hard time catching the ball on first day of camp which hurt everyone's QBR.
Fumbled snaps have been an issue so far in camp, having a negative impact on QBR.
Sacks are considered incompletions in the QBR and the defensive line seems to be ahead of a slightly banged up offensive line.
We have Wittek and Kessler with four interceptions each. Browne has three, but in far fewer attempts.
Wittek and Kessler's offensive and defensive values are nearly identical, indicating they are playing with the first team offense and against the first team defense the same amount of time.
Stay tuned to USCFootball.com for a complete breakdown of the QBR after Thursday's scrimmage.