Moody to Transfer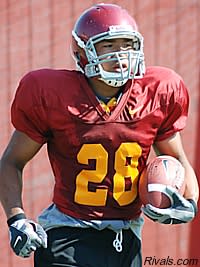 According to published reports, sophomore tailback
Emmanuel Moody
has decided to transfer.
USC confirmed that Moody filed the appropriate transfer paperwork on Wednesday evening.
Moody started four games in 2006 as a true freshman and was the 2nd leading rusher on team, despite missing the final four games with a sprained ankle.
Moody finished 2006 with 459 yards on 79 carries (5.8 average) with two touchdowns. He also caught three passes for 39 yards.
The Sporting News named him Pac-10 Offensive Freshmen of the Year.
Entering 2007 the Trojans listed 10 scholarship tailbacks on their roster, 9 of which were ranked by Rivals.com as 4-stars or better.
After falling behind in the spring with a hamstring injury, Moody then bruised his knee in fall camp and did not practice this week.
Before Wednesday's practice he was seen in workout clothes walking away from the practice field and into student housing.