Moore Re-Commits to Trojans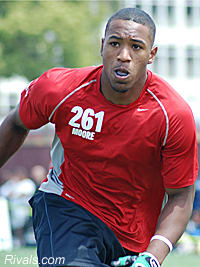 The rollercoaster ride that has been
Byron Moore
's recruiting process came to end Wednesday morning.
The 6-foot-1, 190-pound defensive back from Harbor City (Calif.) Narbonne, sent his letter of intent to the University of Southern California after decommitting from the Trojans over a week ago.
Wednesday, Moore announced he wouldn't venture far from home. With help from his head coach, Moore went for the USC hat.
"My relationship with the coaches - coach Carroll, coach Norton and coach Seto was great," said Moore. "Every time I met with them, they always laid out a plan for my next four years.
"I just felt the most comfortable with them. I want to just stay home and play in front of my family and friends."
For Moore, the recruiting process presented doubt every step of the way.
"It was a tough decision," Moore said during his press conference this morning. "I sat down last night and made the decision with my family. I wasn't really sure."
The decommitment had opened the door for schools such as Notre Dame, LSU and Colorado.
"It was a long process," he said. "I sat down and looked at all of the schools I had and evaluated them. I looked at all the pluses and negatives and then took trips to Notre Dame and Colorado. I loved their campuses and coaches.
"Being close to USC, I was at a lot of their practices and took an unofficial visit Thursday. I saw their business school and loved it."
Rumors swirled around the reason for Moore's wavering, but the senior explained his concerns regarding USC as nothing more than uncertainty.
"I was still looking around and taking trips," said Moore. "Out of respect for the coaches, I de-committed from SC. I needed to feel comfortable about looking around.
"The coaches understood and that's why they kept fighting for me all of the way until the end. Now I'm a Trojan"
This wasn't the first time that Moore's recruitment stirred up controversy; in late June he decommitted from UCLA and gave his verbal commitment to the Trojans after he received an official scholarship offer at USC's Rising Stars Camp.
"I've always followed SC, ever since I was 7-years-old," he said after the camp. "I just had to follow my heart and my heart was pointing me to USC."
Moore made his name in high school as a safety, but the general consensus is that he will get his first shot with the Trojans as a cornerback.
"Nickel and free safety are the positions I want to play," he said. "Coach Carroll talked about their needs for safety and where they see me playing at. They want me as the deep man in the middle like Taylor Mays, but also in the nickel like Josh Pinkard."
As wide receiver, Moore had 40 receptions for 733 yards and eight touchdowns in 2008. On defense, the Rivals100 selection had 25 tackles and three interceptions.
Beyond his obvious skills on a football field, it was important for USC to maintain their dominance over the rest of the country recruiting the very best local players, especially those from the City Section.
Stay tuned to USCFootball.com for the latest on Byron Moore as he prepares to enter USC this summer.