USC's Evan Mobley drafted No. 3 overall by the Cleveland Cavaliers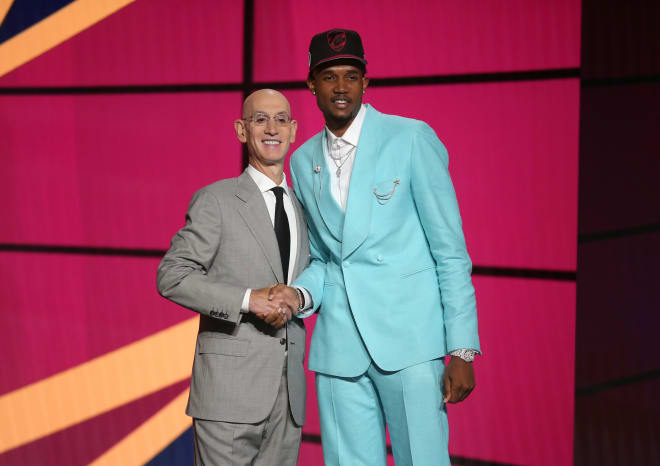 After one spectacular season at USC, in which he stamped his legacy by leading the Trojans to their first Elite Eight appearance in 20 years, Evan Mobley made more program history Thursday night when he was selected No. 3 overall in the first round of the NBA Draft by the Cleveland Cavaliers.
That matches the highest a Trojan has ever been drafted into the NBA, joining 2008 No. 3 pick O.J. Mayo.
The 7-foot Mobley came off the draft board after Oklahoma State point guard Cade Cunningham (Detroit Pistons) and guard Jalen Green (Houston Rockets), who spent last season in the G League.
This also marks the third straight year USC has had a first-round pick and the second straight year with a top-6 pick as Kevin Porter Jr. went No. 30 overall in 2019 and Onyeka Okongwu went No. 6 last year.
Mobley, of course, led USC to the Elite Eight in his only season with the program, averaging 16.4 points, 8.7 rebounds and 2.9 blocks per game. He swept Pac-12 Player of the Year, Freshman of the Year and Defensive Player of the Year honors, becoming the first player in Pac-12 history to do so and only the second major conference player ever to do (along with Anthony Davis from his Kentucky season).
An unselfish, fluid 7-footer who is as adept as a distributor as he is a scorer, on top of his elite defensive skills, Mobley was part of one of the best seasons in Trojans history and will now be one of the highest-ever draft picks in program history, leaving quite a legacy in his short time here.
Here's a look at USC's all-time first-round draft picks ...
USC Basketball Top-10 NBA Draft Picks All-Time
| 2021 | Evan Mobley | No. 3 overall | Cleveland Cavaliers |
| --- | --- | --- | --- |
| 2008 | O.J. Mayo | No. 3 | Minnesota Timberwolves (traded to Memphis Grizzlies) |
| 2020 | Onyeka Okongwu | No. 6 | Atlanta Hawks |
| 2009 | DeMar DeRozan | No. 9 | Toronto Raptors |
| 1962 | John Rudometkin | No. 9 (*actually second round at the time) | New York Knicks |
| 1972 | Paul Westphal | No. 10 | Boston Celtics |
What they're saying ...
Cleveland Cavaliers general manager Koby Altman, via the Akron Beacon Journal: "We knew immediately when we jumped [in the lottery] the level of interest and the offers kept getting more and more compelling. But within those offers there was no Evan Mobley. When you have the ability to draft that level of a talent, that versatile, 7-foot, two-way player that has immense upside, that's what you take."
Altman, via the AP: "He's seven feet and he might still be growing. He has for a big man, incredible feet, so he can really sprint the floor and he can switch out and guard on the perimeter and he's an incredible rim protector, so from a defensive standpoint, he's really unique for a guy his size. And when you switch him to the offensive side, he's extremely skilled. He can step out and shoot it. He can handle it, he was a guard coming up and had a growth spurt, so he has guard-like vision and I think one of the more underrated parts of his game is his passing."
Evan Mobley, via the Los Angeles Times: "I'm here to show what I have, hopefully be rookie of the year."
Mobley, via the AP: "A lot of people have been comparing me to Chris Bosh, Anthony Davis, Giannis, players like that. I definitely just see a good amount of similarities between all of those players. But I feel like I'm my own player and I have my own tendencies, which makes me unique."
The situation ...
Mobley becomes part of a young core for the Cleveland Cavaliers that includes guards Collin Sexton and Darius Garland, who each shined at moments last season when healthy, emerging center Jarrett Allen and second-year forward Isaac Okoro. Veteran forward Kevin Love is also still on the roster, but he has been injury-plagued and is likely not part of the long-term future plans for the franchise.