NCAA clarifies USC transfer rules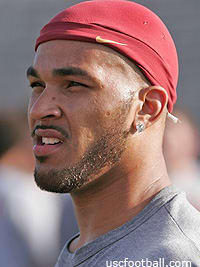 The NCAA provided further clarification regarding transfer rules for USC seniors and juniors in the wake of the school receiving a two-year bowl ban from the Committee on Infractions.
Two specific bylaws apply according to NCAA spokesperson Stacey Osburn, 13.1.1.3.3 - Transfer from Institution Placed on Probation by Committee on Infractions, and 14.8.2 - Residence Requirement Waivers.
The former bylaw states that it is not necessary for opposing schools to obtain written permission to recruit USC seniors or juniors but must notify USC of their recruitment. The latter bylaw, specifically subsection C, states that USC juniors or seniors may transfer "during all of the remaining seasons of the student-athlete's eligibility."
Therefore, opposing schools may continue to recruit USC players with two years or less remaining eligibility throughout the season and beyond. Players who are eligible may transfer over the next two seasons as well.
"There is not a deadline for them to transfer as long as they meet the requirements of the rule," Osburn said via email. "While the penalties a school is appealing are stayed until the decision is reached, this does not impact the student-athletes wishing to transfer that are under this rule. If the postseason penalty is reduced by the Division I Infractions Appeals Committee, a student-athlete who has transferred and has previously been granted a waiver to compete immediately will remain eligible for competition at the new institution."
Although it is possible for a player to transfer mid-year and still play, it is unlikely a transfer waiver will be granted due to academics.
"The academic success of student-athletes is of central importance and must be considered during the transfer process," Osburn said. "Although there is a waiver opportunity for student-athletes, NCAA rules and guidelines typically do not allow for a transfer student-athlete to compete for two different schools during one season."
Players have until September 10th to drop a class at USC and withdraw from school. Players would have to register for classes at the institution they are transferring to, which can be as late as October for schools on the quarter system. Players could also possibly compete for USC during the regular season and, after finishing the semester, transfer in time to participate in a bowl game for another school.
USC has already had four players transfer during the offseason, linebacker Jordan Campbell to Louisville, defensive end Malik Jackson to Tennessee, defensive back Byron Moore to LA Harbor Junior College and running back D.J. Shoemate to Connecticut.
The Trojans open the season on September 2nd at Hawaii.
USCFootball.com will have continued coverage of the team as the begin fall camp in August.