Pete Carroll resigns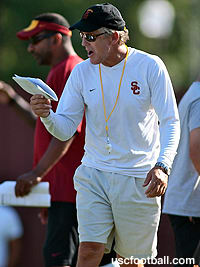 One of the most successful coaching runs in college football history has come to an end.
Pete Carroll
has left USC and is expected to become the head coach with the Seattle Seahawks.
According to sources, Carroll handed in his resignation to USC Sunday evening.
In nine years at USC, Carroll went 97-19, winning two national championships and seven Pac-10 titles.
Carroll and USC have yet to comment.
Carroll has twice been a head coach in the NFL before, spending one year with the New York Jets and three years with New England Patriots.
Carroll's move to Seattle is just another blow capping a tumultuous 9-4 season.
News of Carroll's likely departure broke Friday morning, the same day Joe McKnight and Damian Williams both announced they'd be leaving USC early for the 2010 NFL Draft. Stafon Johnson and Everson Griffen had previously said they would not return to USC. Quarterback Aaron Corp transferred to Richmond also.
Reports have Carroll signing a five-year contract worth $6.5 million a year.
USC athletics director Mike Garrett is expected to contact Oregon State head coach Mike Riley, Tennessee Titans head coach Jeff Fisher and Jacksonville Jaguars head coach Jack Del Rio as possible replacements.
The pinnacle for Carroll came midway in his USC tenure. Between 2003 and 2005, Carroll won 34 straight games and two national titles. It was one of the most dominant stretches of football in recent memory.
The 2009 season, though, was one of rebuilding. Carroll started a true freshman at quarterback for the opener, something that had never happened in school history. And after a 2-0 start, USC lost at Washington.
From there, the Trojans won four and a row before losing three of their last six games.
Carroll's legacy at USC will also be measured by his contributions off the field. His charity, A Better L.A., has worked with anti-gang advocates to help at-risk youth throughout the city.