Saying goodbye to Ed Orgeron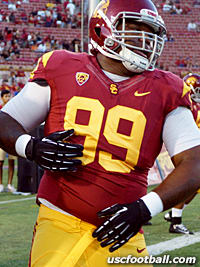 "It was an odd comment," the Yahoo Sports national radio interviewer noted of USC Pat Haden's "I've had better days," remark as he left the McKay Center Monday afternoon.
The Trojans had just named Washington head coach Steve Sarkisian as the new man to follow in the footsteps of former Trojans co-offensive coordinator and longtime friend Lane Kiffin.
"Shouldn't this be a time of excitement and anticipation, the highest point of positive feelings?" our Yahoo! man asked.
It should be. And maybe it would have been except for what else happened: the emotional departure of interim coach Ed Orgeron, whose 6-2 finishing record after revitalizing a broken team, beating No. 4 Stanford and putting fans back in the Coliseum.
This wasn't so much about the new guy, even on his fifth trip back to USC in all sorts of capacities, who comes in pretty far down on the list for USC fans for their next coach.
This was about the man who was leaving after 11 years here.
"Love ya, Danny," were his last words on campus outside McKay before Coach O, his eyes still red from the 15-minute team meeting, and his wife, jumped into a waiting SUV to head into the future described in the USC release as one that would involve "pursuing head coaching opportunities."
It's that way CEO has with people that his coaches and players, many also with tears clearly not wiped from their cheeks, streamed out of McKay.
Antwaun Woods, for one, was "not surprised," he said, that Coach O would go. "It was a matter of pride. It is what it is.
"Everybody was sad to see Coach O go," Woods said of the governing emotions here. The hiring of Sarkisian wasn't a problem, Woods said. "He's a good coach."
Asked his best memory of his position coach and then his head coach, Woods said: "Every day, just being with Coach O . . . being with the person Coach O is . . . he was more than a coach, and for a D-lineman to have your position coach become your head coach, it was just emotional."
Asked if he had a final message for Orgeron, Woods said at first, "I don't know," then "I'll keep that personal."
It's on that personal level, on top of turning around the football team the last two months that mattered on this Monday.
"It's hard to describe," said Lamar Dawson as the injured linebacker, one of four Trojans to go by in electric carts, talked about the team meeting. "Unbelievable."
"I'm all right," George Uko said quietly and then a cart-riding Justin Davis said the same thing, barely loud enough to hear. Leonard Williams, Scott Starr, Quinton Powell and J.R. Tavai just went quietly by, staring straight ahead, talking to no one.
Ty Isaac tried to talk but after three attempts, the freshman just couldn't get the words to come out. Josh Shaw didn't even try, staring straight ahead, acknowledging no one.
Marcus Martin scooted by on a cart, his left knee immobilized in a big brace and his left ankle in a boot, saying he couldn't talk but also in his cellphone, addressing someone he kept calling "Coach . . . Coach."
"Steve Sarkisian on Line 2," maybe. That was on Ed's agenda for Monday: Talk to all the draft-eligible juniors and keep them informed and on board with all they needed to know.
Now Sarkisian, just 39 and coming off a modestly successful five-year rebuild of an awful Husky program, would be the one to make those calls.
"I can't wait to get started," he was quoted in the USC release. Which might have been sooner than USC's 2 p.m. introductory press conference Tuesday. Monday night's team meeting might be the right place to get this going.
But by then, the TV crews who missed Coach O's departure, were gone.
One by one, USC's assistants would be starting to stream back in from their recruiting duties. Tee Martin was already here, walking Coach O and his wife to the car.
Then associate head coach John Baxter appeared, arriving back at McKay after recruiting the last two days. He learned about Monday's developments, he said, "this morning, from my kids . . . they're scared for their dad. But I'm going to be all right."
There are those words again.
And that was the scene when Steve Sarkisian arrived at the McKay Center just before 6:30 p.m. for a meeting with President Max Nikias and then the team.
The grin and wave, as Sark spotted me through the McKay window was the same. And his immediate gesture to come open the door and say "Hi" to LA Times beat writer Gary Klein and me was just like always.
He didn't want to be quoted, he said, before he talks to the president and the team. But he's upbeat as heck about it. And knows the challenge that awaits, made no easier by how Monday went.
More later.
Dan Weber covers the Trojans program for USCFootball.com. You can reach him at weber@uscfootball.com.