USC basketball lands two more transfers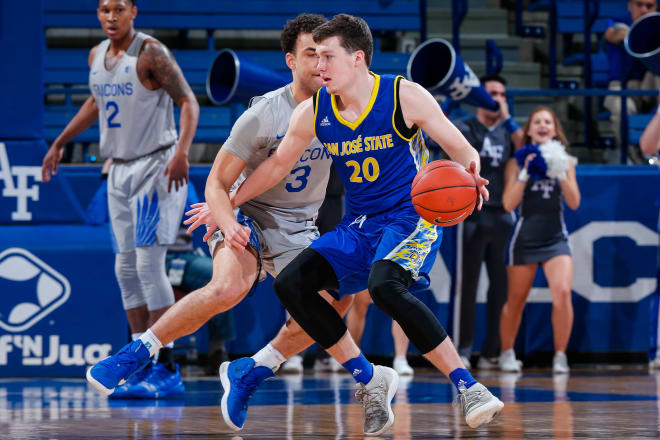 The USC basketball program picked up two more perimeter weapons from the transfer market Tuesday, as San Jose State sharpshooter Noah Baumann is joining the program along with Akron grad transfer guard Daniel Utomi.
Baumann holds the top two 3-point shooting percentages in SJSU program history, hitting from a 46-percent clip as a freshman in 2017-18 and 45.5 percent as a sophomore this past season (with 81 made 3s).
Baumann, a 6-foot-5 sophomore guard from Phoenix, made 44 starts while playing in 60 games overall the last two seasons. He averaged 10.8 points with four 20-point games as a sophomore.

He took visits to USC and Grand Canyon before choosing the Trojans.
While Baumann will have to sit out next season due to NCAA transfer rules, Utomi will be immediately eligible as a grad transfer.
The 6-foot-6 guard from Houston, Texas, averaged 14.2 points per game for Akron last season after averaging 16.8 the previous season. Combined, he made 181 3-pointers over the last two seasons, shooting 38.8 percent from long-range in that time.
Utomi is the second grad transfer USC has added this offseason, along with Columbia guard Quinton Adlesh -- another productive outside shooter.
That should complete a busy offseason and roster overhaul for the Trojans.
Back in the early signing period, they officially added 5-star forward Isaiah Mobley, 5-star center Onyeka Okongwu, 4-star point guard Kyle Sturdivant and 4-star forward Max Agbonkpolo along with 4-star guard Drake London -- a two-sport athlete who officially signed with the football program.
Since then, USC also picked up a commitment from 3-star guard Ethan Anderson and added Adlesh, Baumann and Utomi.

The Trojans had room to maneuver after losing seniors Bennie Boatwright and Shaqquan Aaron, in addition to Jordan Usher transferring to Georgia Tech during the season, Kevin Porter Jr. declaring for the NBA draft after his freshman season and J'Raan Brooks and Victor Uyaelunmo entering the NCAA transfer portal (according to the LA Times).
USC is coming off a disappointing 16-17 finish for its third losing season in six years under Enfield.