Spring football report: March 21st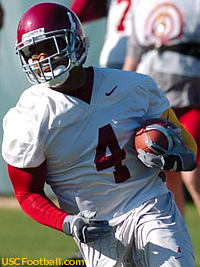 At long last the Trojans were back on the field for their 1st of fifteen spring practices.
It was a chilly afternoon on Howard Jones Field with plenty of fans and media on hand to observe the first session. USCFootball.com was there getting interviews, taking photos and reporting on all of the position battles. Click here for the comprehensive and free report from practice.
The team started out early with warm-ups at 3:30 PM and worked hard without pads for a spirited two and a half hour practice. The practice field looked pristine with new grass and newly painted lines. The offense was wearing their white practice uniforms and the defense was wearing cardinal.
One of the biggest stories involved the players that were not taking part. Several of the Trojans are coming off injuries and they will either be limited or completely out of all contact drills this spring.
When the team went to 11-on-11 both quarterbacks got their chance to impress the coaches. Again there were not many deep balls, especially early on. Plenty of short passes over the middle or in the flat to the running backs.
The best catch of the day was probably on a Sanchez throw to Jarrett. Covered by Harris, Jarrett had great body control down the left sideline and caught the ball with essentially his fingertips and somehow managed to stay in bounds. The officials were right there to call it a completed pass but some of the defenders tried to talk them into changing their decision.
There was certainly much more passing going on than running, but with All-American caliber receivers and no healthy tailbacks, that philosophy is understandable.