Trojans get their man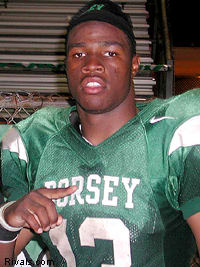 Instead of dropping a bomb, Los Angeles (Calif.) Dorsey running back
Stafon Johnson
lifted the spirits of Trojan fans nationwide.
In front of a national audience on ESPNnews, Johnson announced he would sign a letter of intent to the University of Southern California next week. Johnson, rated the No. 2 running back prospect in the country, chose USC over Georgia.
"I just want to let everbody know The Prince is staying in California," said Johnson during his announcement on ESPNnews. "I want to thank my mom, my dad, my grandfather, my church . . . everybody that has been praying for me."
Johnson becomes the 18th verbal commitment of USC's 2006 class and the fifth five-star recruit penciled in to play next fall. While many assumed USC would be his choice all along, Johnson claimed his final decision was not an easy one.
At this time yesterday, his father Stan admitted that Stafon was leaning toward the Bulldogs. However, Trojans' running back coach
Todd McNair
convinced him to stay home for college.
"My chemistry with coach McNair has grown through the recruiting process," said Johnson. "I fell in love with Todd McNair - he calls me his son, his young dog. I just knew I couldn't give up on him."
Having held a 3.0 GPA for most of his high school career, Johnson became fully qualified to enroll at USC last March.
This past season, Johnson ran for 1,866 yards and 17 touchdowns on 212 carries. While Johnson was also rated as a five-star safety prospect by Rivals.com earlier in the year, he's projected to play running back at USC.
Excluding Johnson, Lake Butler (Fla.) Union County standout
C.J. Spiller
is only one other uncommitted running back in the country that holds a scholarship offer from USC. The five-star all-purpose back officially visited USC in November and will announce his college decision Feb 1 despite reports that he verbally committed to USC last weekend.
Stay tuned to USCFootball.com for more on Stafon Johnson's big announcement, as Ryan Abraham will be on site to get exclusive photos and comments from USC's newest commitment!