USC contacts Tennessee QB commit
Not a TrojanSports subscriber? Sign up and gain unlimited access to the most in-depth coverage of USC football and recruiting and our premium message board. CLICK HERE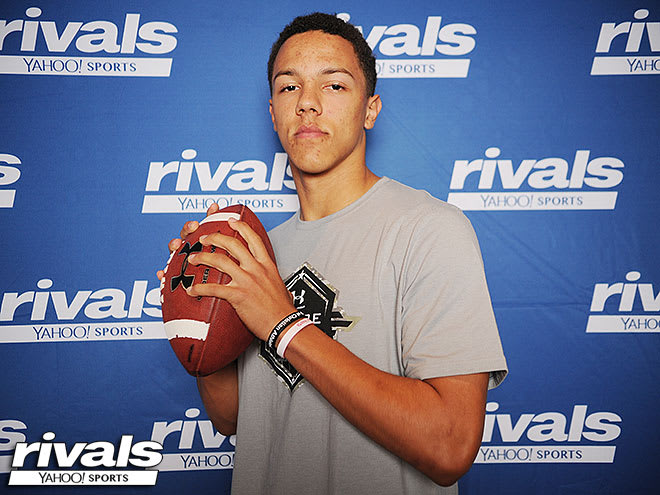 At one point, Rivals250 quarterback Adrian Martinez was committed to Cal and planned to enroll at the school early. Then the Golden Bears went through a coaching change and Martinez found a new home. Back in May, the quarterback from Fresno, Calif. made a commitment to a prestigious SEC program in Tennessee.
But when it comes to football recruiting, nothing is certain until pen meets paper and a prospect signs a letter of intent. Just days after parting way with Matt Corral, USC contacted Martinez to see if he's interested in the Trojans.
"I would say a few days ago," Martinez said when asked when USC contacted him. "One coach did reach out to me and they wanted me to go to campus. I told them that I wasn't going to be able to, just because I'm going with my family this weekend up to the mountains. Kind of like a family vacation, I have a couple of friends up there. So that wasn't going to work out. I think we're going to get something together where I'll have a good time to get down there and check things out."
It seems like Martinez is potentially interested in USC and wants to see the school. When asked for an explanation, he points to the whirlwind process of making a commitment in today's day and age.
"In the world of recruiting, you never know what can happen," Martinez said. "I think it couldn't hurt to visit and check things out and hear them out, if they had anything to offer to me. So you never really know how these things will go. I'll play it day by day at this point."
Tthe 6-foot-3 and 198-pound quarterback says that if USC continues to show interest in him, he'll continue to show interest in USC.
"I probably will if things continue to increase and I hear more from their coaches," Martinez said of a potential visit to USC. "I'll probably go check things out, get a feel for the place. It obviously couldn't hurt. Like I kind of said earlier, I've been through it with Cal. You really don't know what can happen. You just have to play the game along with the coaches, it's just the way recruiting is now. I don't think it could hurt for me to go take a visit."
In fact, a USC visit is his only trip he wants to take in the near future. Martinez says it will likely happen sometime this summer.
"It would probably have to happen sooner rather than later," Martinez said of a potential visit to USC. "I just don't know at this point. But my grandparents actually live in Torrance, so that might be something where I go down there and then we can go check it out from there. And my girlfriend is actually going to Cal State Northridge too. There's a lot in that area. That's kind of why that's the only other school I would consider at this point."
But despite all his connections to the Los Angeles area and his plans to visit USC, Martinez says he's still firm with his pledge to the Volunteers.
"I'm pretty firm on my commitment to Tennessee right now," Martinez said. "That's all there is to it. But we'll just have to see and see how it all plays out."
While Martinez says he's very solid with Tennessee it seems like the race to sign him could be a battle between Tennessee and the Trojans. Since he is so firmly committed to Tennessee and has been, Martinez explains that USC just jumps out to him.
"I would definitely say that," Martinez said when asked if USC was the only other school he was considering. "There really isn't any other school that jumps out at me. But USC brings some interesting factors to it that I would definitely take a look into."
So why has USC become a school to watch, despite the fact that Trojan coaches have not yet offered Martinez a scholarship?
"Obviously with USC there comes a certain amount of prestige with that school," Martinez said. "There's very good academics. A very good football program, that's close to home, it's in the Pac-12. There's a lot of pros to the place right off the bat. There's also a lot more to it. I have to see how things go but it's definitely an intriguing spot, for any prospect no matter where you come from because of its tradition and its brand."
While Martinez is highly interested in USC and the interest seems mutual, a personal workout for USC coaches might not happen anytime soon though. Martinez recently had shoulder surgery and says he can't throw "until August."
When asked about Martinez's shoulder, a source close to USC's football program says the staff plans to watch him throw the ball in August.