USC Football Notes: Malcolm Epps' rare statistical feat, OL health and more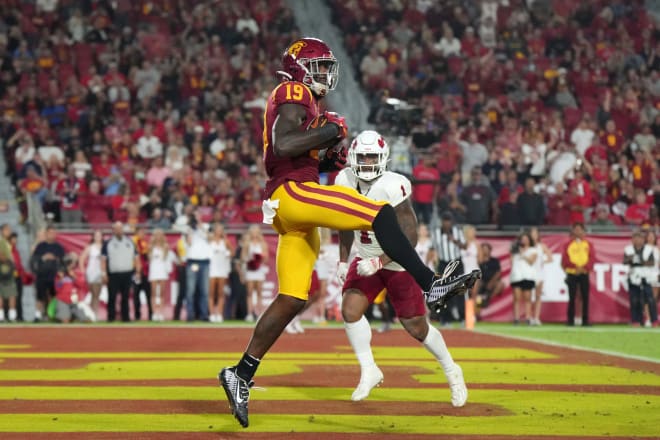 The research team is still trying to find the last time it happened, if it ever happened at USC, but for now it's fair to at least say that Malcolm Epps hauling in an interception and a touchdown reception in the same game is a rare feat.
Epps, USC's 6-foot-6 veteran tight end, grabbed the first interception of his life as the designated jumper in the Trojans' Hail Mary defensive package at the end of the first half, skying to snare Fresno State QB Jake Haener's pass out of the air.
Then, in the fourth quarter, Epps caught a wide-open 10-yard touchdown pass for his only reception of the day and first TD of the season.
So which one meant more to him?
"Ooh, it's got to be the pick. That was the first one of my career in real games and a lot of tight ends don't have a pick on their stat sheets," Epps said.
Nearly all tight ends don't have a pick on their stat sheets, for that matter.
Epps was asked if he was supposed to bat the ball down rather than try to catch it ...
"Yeah, but there's no way I was passing up on that opportunity -- it was impossible," he said with a big smile.
Actually, though, defensive coordinator Alex Grinch said the interception was the ideal outcome in that scenario.
"I'll give you our secrets. As we studied it over the years, the knockdown creates tips and so we tell the guys if you have a good track on the football we'd rather eliminate all those issues. I think there was a tip maybe at the Appalachian State game [Saturday]. If we can, and sometimes you don't have a good track on the football, but we define a jumper and we try to come down with it just to eliminate that other variable," Grinch said. "It's easy to say -- he's got to go do it."
USC nickel Jaylin Smith was already bracing himself for what Epps would have to say at practice about securing an interception before most of the Trojans' defensive backs.
"You know what he's going to say. Tuesday practice for sure, he's going to come out there and talk. It's going to be funny for sure," Smith said.
Left tackle health
Despite going through early pregame warmups Saturday, co-left tackle Courtland Ford, who injured his foot or ankle in the last game at Stanford, was ultimately not available to play.
That left Bobby Haskins, who had split snaps through the first two games with Ford, as the primary left tackle. He had his struggles, though, allowing 3 pressures including a sack, and later left the game with an unspecified arm injury.
He still managed to play 72 of the 78 offensive snaps, with redshirt freshman Mason Murphy playing the other 6 at left tackle. Murphy also gave up a sack in that time.
So what does all of that mean for USC's left tackle situation next weekend at Oregon State? Head coach Lincoln Riley said he was not concerned about Haskins' status.
"No, he could have played if the game there was [closer]. Just took a pretty big shot, but he was laughing and joking at the end. I can't repeat it all, but he'll be good," Riley said. "And we'll be excited to get some of these guys healthy. We were able to get through tonight on both sides of the ball holding a few guys that we think are getting pretty close to being ready to go."
Rush end Romello Height also didn't play due to a shoulder injury, while freshman cornerback Domani Jackson went through warmups for the first time this season but ultimately did not play.
Where USC ranks nationally in statistical categories
USC has scored 152 points through three games, which is the most in that span for a Trojans team since the 2005 team scored 178. The Trojans have also scored a touchdown on all seven of their first quarter drives this season, which is a statement unto itself.
USC is now sixth nationally in scoring at 50.7 points per game and 11th in total offense at 520 yards per game.
Individually, Jordan Addison is tied for second nationally with 5 receiving touchdowns, and Travis Dye ranks seventh in the country in yards per carry (7.57). Backfield mate Austin Jones is actually averaging 8.2 YPC, but with only 24 carries he doesn't yet qualify for the national rankings.
Meanwhile, the defense is tied for third nationally in takeaways among teams who have played three games so far. The Trojans are tied for second in the country in sacks at 4.67 per game (14 total).
And overall, USC leads all FBS teams in total turnover margin as the Trojans have not committed any offensive turnovers, meaning they're plus-10 through three weeks.