USC offers 14-year-old phenom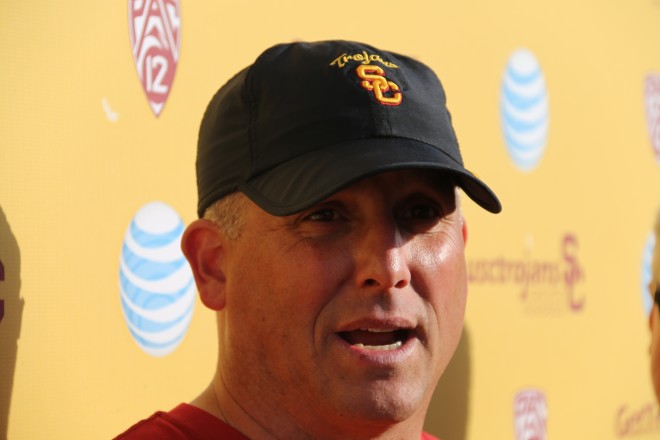 Jaden Navarrette is one of those very young prospects that turns heads whenever he's on a football field. He's a youth football league legend much like De'Anthony Thomas and Reggie Bush were years before him.
Navarrette will graduate high school in 2020, meaning that he hasn't yet reached high school. The 6-foot-3, 190-pounder says he's just 14 years old and won't turn 15 until November. He's listed as an wide receiver by rivals.com but he's played pretty much every position in youth football from the defensive line to linebacker to receiver and tight end.
Although he has many years to go before he reaches college, Navarrette hopes to be known as one of top high school football players in the country when he's a bit older.
"I think I can be one of the best in the class of 2020 if I keep working hard moving forward, doing all the things that God gave me the talent to do," Navarrette said.
That's not a ridiculous statement at all. This past weekend, Navarrette put his Pop Warner competition behind him to go up against high schoolers participating at USC's Skills Camp. He left USC's campus with a scholarship offer, his first from any school.
"I went out there and I was showing these coaches that I wasn't scared of competition," Navarrette said. "I wasn't scared of people that are older than me and people that are bigger than me. It means nothing. I was just showing the coaches the ability I have and all the skills I've been training to use all these years for big things like this."
When the coaches started talking to Navarrette, he realized he had made a big impression.
"All the coaches were talking to me and they're like how old are you?," Navarrette said. "And I was like eighth grade and they were like wow, you're in eighth grade? I was like yeah coach. He just kept going. He said he hasn't done this in a while, they haven't offered an eighth grader in a while like they offered me. It was an amazing feeling."
Navarrette says the offer from USC is meaningful to him for a few reasons.
"It means a lot because they see something in me that I can take to the future and help their school and help them win national championships," Navarrette said. "It means a lot because that's been my dream school since I was little. I always looked at the games and was like oh I want to be like him one day, I want to have all these fans cheering for me. It's just been a dream. It felt like I was there yesterday and I just woke up from a dream, oh here I am and I got a scholarship offer from USC."
Since he is so young, it wasn't long ago that Navarrette was literally dreaming about being a star player for the Trojans.
"Honestly, I had dreams not too long ago about me playing in the Coliseum," Navarrette said. "Me right there walking on too the field, everyone screaming. It's amazing how all this is coming so fast. I was just a kid, I was nothing, I was working all this way, taking it step by step. I've just been working and now I've gotten here."
It seems likely that Navarrette will eventually have a large collection of scholarship offers to consider. So, he says he'll take his time before choosing his favorite school.
"Right now, I've got the USC scholarship," Navarrette said. "I'm thinking right now of what I'm going to do because there's four years and if I commit now, what happens if the coaching staff leaves and they're not there anymore? So right now I'm just thinking, I'm just waiting to see what happens and hopefully it goes good. And since it's really my dream school, I'm going to have it in my mind."
Navarrette will likely see at least a few other schools before he makes a commitment but his summer won't be loaded with trips at all. He says he only has one other campus visit planned in the near future. He expects to visit UCLA this week. He's not yet sure if he'll return to USC for the Rising Stars Camp.