USC recruits to watch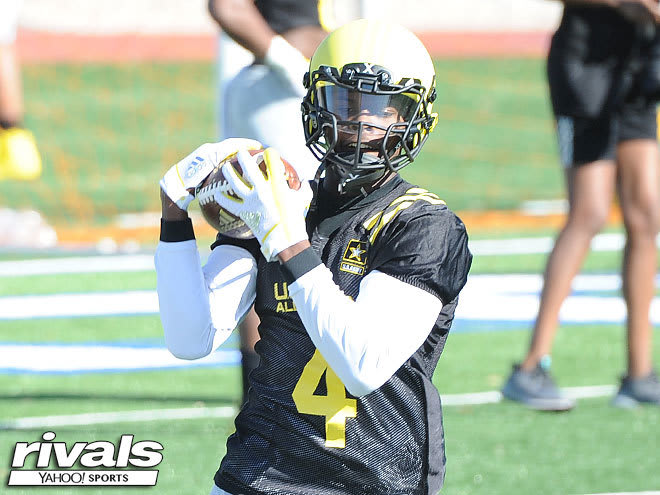 As National Signing Day approaches, TrojanSports.com lists 19 recruits, who are not committed to USC, that everyone needs to keep an eye on.
Note: Subscribers have exclusive access to the Trojan Talk message board where they can ask questions of our experts about these prospects (and about any other topic). To gain full access to TrojanSports.com, make sure to subscribe by CLICKING HERE.
Blades was committed to Florida for a long time but USC and others kept pursuing him. Just recently, he backed off that Florida pledge and named a top five. USC is one of those five schools and we know Blades had incredibly high interest in USC at one point. But with this class filling up so fast, we're not as certain that Blades will pick the Trojans as we once were. But he's definitely worth keeping an eye on.
Brown is a cornerback from Oklahoma who's already pledged to stay local and play for the Sooners. But he has shown some serious interest in USC and is in play for the Trojans.
Falo is essentially down to Colorado, Oregon and USC. He has a brother who plays for the Buffaloes but we've been told that Colorado isn't the school to watch here. It seems like the school to watch is USC. Falo had a fantastic trip to Los Angeles and we believe USC is the school to beat here. That is, if the Trojans have room to take two tight ends when all is said and done.
Faoliu was not interested in USC's blue shirt offer but he's still someone to keep an eye on as signing day approaches. We still believe an actual scholarship from USC can change his mind, despite his recent commitment to Oregon. That scholarship offer seems to be in play.
An LSU commit at the defensive tackle position who visited USC this month. It seems USC has other priorities at that position but he's not someone to rule out.
Jackson is the nephew of a former USC football player and the grandson of another. Everything we've been told points to him being a Trojan. We would be absolutely shocked if he didn't end up at USC.
Johnson took an official visit to USC but he claims to be 100-percent committed to Miami (Fla.) and at this point, we believe him.
We would be very surprised if Johnson didn't commit to USC on signing day. His brother is already a Trojan commit in the class of 2018. On top of that, many of his other teammates are expected to eventually commit to USC as well. Johnson has been a priority for USC for some time as well, even when he was committed to Arizona. He's expected to be a Trojan.
Jones has plenty of different options as one of the top linebackers in the entire country. He's also named different favorites throughout the entire process. But we believe USC is actually the favorite at this point.
USC feels that they have a good chance to sign this junior college prospect (who was committed to South Carolina as a high school football player). Signing Kinlaw would be a big deal for USC as the Trojans could use upperclassmen help along the defensive line immediately.
He's arguably the top priority for USC in Southern California. He's basically down to USC and Nebraska and we expect him to be a Trojan.
Owusu is a blue shirt candidate that is a nice looking prospect at outside linebacker. He has a few other power-five options but USC is definitely the name school on his list. That could lead to this blue shirt offer to Owusu working out for USC.
He'll make a commitment on Friday from his top three of Arizona State, USC and Washington. We would be shocked if he didn't pick the Trojans.
USC has a very real shot to sign Aubrey Solomon. We believe USC will be one of his two finalists and that the Trojans actually have a great chance to be the school that he selects at the end of the day. This one is still around 50-50 though but it would be huge for USC if they got Solomon.
Tagovailoa-Amosa has said USC is his favorite ever since he visited campus a few months back. Even when we caught up with him recently at the Polynesian Bowl, he was still talking up USC and claiming the Trojans as a favorite. But he is trying to sneak in a few final official visits before signing day and we've been told that a few other schools on his list present some threats to USC.
Tufele has a list of top schools that includes BYU, Michigan, Ohio State, USC and Utah. He's also scheduled to visit the Utah Utes for his final official visit. But our very own Drew Krinsky uncovered that Tufele plans to commit to USC when the time comes. So we think he'll be a Trojan and we're very confident in that prediction.
A potential blue shirt candidate that could, somehow, someway, end up in this class. That makes him worth watching out for as signing day approaches.
We haven't heard much on Wallace recently and he would be a surprise addition to us because of that. But he's still worth keeping an eye on.