Trojans feeling 'déjà vu' after latest lopsided loss in Coliseum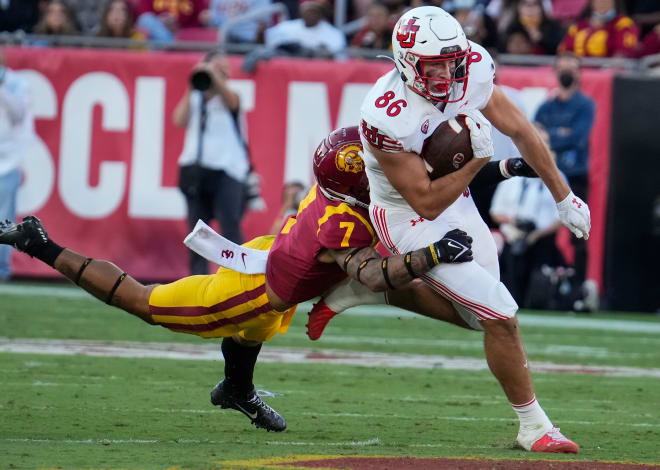 For the third time in four homes games this season, USC got blown out in the Coliseum
For the second time in three weeks, an opponent snapped a long-standing streak of one sort or another. The last time the Trojans were here, it was Oregon State getting its first win in the Coliseum since 1961. This time, Utah won for the first time ever in the Coliseum while collecting its first road win over USC of any kind since 1916.
Yeah, it's become that kind of season.
Any fleeting hopes of a late Trojans rally in the Pac-12 standings ended Saturday night with USC's 42-26 loss to the Utes.
WATCH: First-and-10: The most significant conclusions and criticisms from USC's loss to Utah | Postgame video interviews with USC coaches and players after the loss to Utah | The most notable quotes after USC's loss to Utah | Everything USC interim coach Donte Williams said Sunday night | Update on TE Michael Trigg's injury: 'It's not an ACL'
Any thought that the momentum from the blowout win over Colorado last week could be sustained dissipated sometime between the end of the second and start of the third quarters.
And now the fear has to be whether this season fully goes off the cliff -- think 2018 levels (5-7 finish) or worse.
"It kind of just feels like déjà vu from our previous losses," center Brett Neilon said.
The last time USC lost three straight home games all by double figures was in the forgettable 2000 season under Paul Hackett -- the season before Pete Carroll was hired and elevated the Trojans back to the top of college football -- but even then it wasn't three straight defeats by at least two touchdowns each.
This team has now lost by 14 points to Stanford, 18 points to Oregon State and then 16 points Saturday night to Utah in its last three appearances in the Coliseum, and really, each of those losses felt more out of reach than even those final scores represented.
In this case, USC was down 35-10 entering the fourth quarter, having surrendered 28 straight points.
"It's tough. A lot of us really love this team, love this program, respect this program. I hate to see us having these historic losses in such a great venue where so many legends have been made," defensive end Nick Figueroa said. "It's a lot bigger than us and I know it hits us in the heart. But you can't just walk out here and expect to win. You have to beat these teams. It's why you play the game."
USC (3-3, 2-3 Pac-12) actually finished with 493 offensive yards while piling on some late fourth quarter stats with the game out of reach, but the Trojans allowed a whopping 486 yards to Utah (3-2, 2-0), which hadn't put up more than 352 yards against an FBS opponent yet this season.
"The guys fought till the end, but that's not good enough at all -- especially for USC," interim head coach Donte Williams said. "... I see guys still fighting, I don't see guys giving up, but the fight is not good enough. You've also got to execute in the fight."
Call it what you will, but it sure seemed like the Trojans lost something -- confidence, energy, hope? -- after a decisive swing midway through the game.
On fourth-and-1 from the USC 37-yard line with 17 seconds left in the first half, Utah dialed up a flea flicker that was executed to perfection for a touchdown from quarterback Cam Rising to Devaughn Vele, sending the Utes into halftime up 21-10.
It had been a decently competitive game to that point -- it would not be one the rest of the way.
Four plays into the third quarter, safety Isaiah Pola-Mao got lost in coverage on a 19-yard completion to Vele, and on the next play Utah blew a hole right through the USC defensive line as Tavion Thomas rumbled for a 43-yard touchdown run.
It didn't stop there.
After intercepting USC QB Kedon Slovis the ensuing series on a fourth down pass he had to force into traffic, Utah needed only three plays to go 40 yards for another touchdown. This time, Rising took it himself on third-and-1, making nickel Greg Johnson whiff on a tackle and then shaking off a leg tackle attempt by Chase Williams to spin his way for a 17-yard touchdown and a 35-10 lead.
And like that, it was effectively over -- another Pac-12 opponent getting in its shots on these beleaguered Trojans before a sparse turnout from a fan base that has largely already turned its full focus to the program's ongoing coaching search. (If they hadn't before Saturday, then surely they have now.)
"It's something that we talk about a lot, but kind of the middle 8-10 minutes right there, you look at all three [home losses], it's a big swing," offensive coordinator Graham Harrell said. "Four or five minutes going into halftime, four or five minutes coming out of halftime. You get stretched to a three-score lead and that puts you in a hole. So we've got to be better in that situation. We've got to be better in that kind of middle section because I think you win or lose games in that area, and unfortunately in all three of our losses they've gone the wrong way."
"They all just kind of feel like déjà vu," Neilon reiterated again. "Kind of similar scores, similar in the loss, so it hurts."
The Trojans made Rising, who opened this season as the Utes backup, look like a Heisman contender, as he completed 22 of 28 passes for 306 yard, 3 touchdowns and 0 interceptions, and added 27 yards and a TD rushing.
"There was a moment there that the quarterback looked like he just couldn't miss, whether it was over the top or underneath coverages we weren't doing enough," Williams said.
There was at least acknowledgement if not any immediate answers to explain what happened defensively -- again.
"Definitely a lot more we could have done out there to stop them. Any time you give up 450 yards and 42-odd points, it's just not a good performance. We've just got to play better," Figueroa said.
It's fair to wonder at this point if the Trojans can do significantly better. The sample size has become pretty telling.
Oddly, USC's last five games have all been blowouts, including the wins at Washington State (45-14) and last week at Colorado (37-14), while the losses do indeed look mighty similar and consistent: Stanford (42-28 final after the Cardinal were up 42-13 early in the fourth quarter), Oregon State (45-27 final after the Beavers were up 42-17 early in the fourth quarter) and then Saturday night (down 35-10 early in the fourth quarter).
That's three straight home games in which the Trojans trailed by 25 points in the fourth quarter. It would take the Elias research team to figure out if that's ever happened before in program history.
So the first half of the season draws a pretty clear conclusion: the Trojans can still beat up on the bottom of the conference; they just haven't been able to hang with the rest of the league, which is a sobering reality for even the most cynical and disillusioned USC fan.
Mercifully, USC now heads into a bye week before a (likely unmerciful) road trip to Notre Dame.
As for the footnotes from Saturday, star receiver Drake London did his part again for the Trojans with 16 catches for 162 yards and a TD, one reception short of the USC single-game record. At this point, London's chase of records and a potential Biletnikoff Award may be the only compelling storyline remaining.
Slovis completed 33 of 53 passes for 401 yards, 2 TD and 1 INT.
Keaontay Ingram rushed for 70 yards on 14 carries, Gary Bryant finished with 5 catches for 85 yards and tight end Malcolm Epps added 2 catches for 59 yards, including a 41-yard touchdown in the final minute. RB Vavae Malepeai also tacked on a short TD run late in the fourth quarter.
For Utah, Thomas rushed for 113 yards and a TD on 16 carries in addition to Rising's big game.
On a down note, promising freshman tight end Michael Trigg was carted off after taking a punishing hit to his right knee on a pass downfield. Williams said he wouldn't know the severity until the MRI test results come back.
So where do the Trojans go from here?
"You've got to put this game behind you, so it's a high level of concern if people can't put the game behind you," Williams said. "But I know this team, I know the guys in that locker room, I know we won't have a problem with doing that. There will be guys in there tomorrow making sure they're watching film to make sure they do what they've got to do to make sure we get ourselves prepared."
It's Williams' job to be confident and to try to instill confidence in his players.
As for the rest of us, there aren't many signs to point to that would suggest this gets much better the rest of the way. Especially considering the first half of the schedule was supposed to be the easier half for the Trojans.
Williams was rather blunt in acknowledging that he will consider personnel changes over the bye, that could include giving some younger players an opportunity over the struggling veterans.
"Just because you're a senior or a junior doesn't mean that you just play. The better player needs to play," he said.
"Making sure that we're playing the right guys, making sure that we're calling the right plays, making sure we're doing things the right way," Williams said of the focus heading into the bye week. "This was the first half of the regular season so we've got a whole second half to go, so we've got to make sure we've got the right combination of guys and plays going on that field. ...
"It's the whole team right now, it's a little bit of a rollercoaster, so I need to make sure that it's not a rollercoaster and everybody's on the same train tracks."