We all have our 9-11 heroes today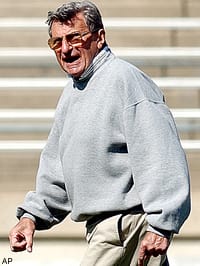 This wasn't the plan.
But looking over the USC game notes convinced me this was the way to go for this day -- 9-11-2010.
Because USC quite rightly plans to salute heroes from 9-11-2001 before the game, with local fire, police and military personnel honored in Joint Forces Day before the game to commemorate the ninth anniversary of 9-11.
As will I.
USC plans to recognize and thank those special folks who answered the call when terrorists commandeered a pair of airliners and brought down the Twin Towers in New York City and then aimed two more at Washington, D.C.
My own personal 9-11 hero on this day every year is my wife, Diane Pucin, a sportswriter at the Los Angeles Times, who was more a part of that terrible day than either of us could have ever imagined.
Not often does a sportswriter get involved in this kind of thing. Although as we now know, that's what made this as awful a moment as our country has gone through. Because not a single person among the 3,000 innocents killed that day was doing anything other than what any perfectly regular everyday person would be doing -- going about their normal lives suspecting nothing.
As was Diane.
But in her normal daily life, there was always sports so it took a most unusual combination of events coming together to make it happen.
There was the opening weekend of college football that season with Joe Paterno going for the coaching wins record at one end and Roger Clemens, going for his 20th straight win, at the other end.
Those two events bookended Diane's annual two-week trip to Flushing Meadow to cover the U.S. Open Tennis Tournament.
Even now it's hard to believe that this all really happened. And easy to thank God for what didn't happen as I realize how very lucky I am that Diane made it home.
This will always be a difficult day for Diane, who spends the 9-11 anniversary back in New York every year.
As the story unfolds, you'll understand why. This is my way of sharing it with her, as difficult as that is to do for anyone who didn't live it the way she did.
It was a late request, as these things often play out. Could she leave early and pick up the Penn State-Miami opening game at State College on her way to the Open. If JoePa wins that one, he's the all-time winningest college coach.
Well, yes she could. She's always loved JoePa. Got to know him when she worked in Philly. And she loves college football. So sure, even if she had to fly through Boston and Islip, the third NYC airport on Long Island, to do it, she would. Any other flight combo would cost $1,800 more.
But that route would require retracing her steps after the Open, a limo to Islip from Manhattan, then a commuter flight to Boston for the trip back to LAX the Monday after the Open.
Only wait a minute, Clemens is going for No. 20 at Yankee Stadium that night, her bosses realized. What if you pick that game up and come back on Tuesday, Sept. 11, 2001?
And she gets her seat assignment out of Boston. In business class. Seat 11A. And yes, Diane realizes that now means a limo at 5 a.m. after getting in at well past midnight from the game. And that means no sleep.
And maybe in the back of her head she hears her husband's voice telling her to never take those early morning flights unless there's no other way to go.
So before she gets off the phone with the reservationist, Diane asks when the next flight from Boston would be and, most importantly, can she be upgraded. No upgrade, no go. She'll go early.
And the reservationist comes back and says that yes, she can get upgraded on the later flight after noon. So she books it. No more seat 11A. No more early flight from Boston.
And then the Yankees game gets rained out. And she gets to sleep in. Only she doesn't. For some reason, her husband in Orange County is up early watching Don Imus when the news, and then a brief picture, flashes on the screen.
A plane has just flown into one of the Twin Towers. Looks like a small plane, the first reports say. Seems to think it's an accident.
But it doesn't sound like an accident, I recall thinking. This doesn't sound right. And so I stay watching every minute of the developing story. Just thinking I do not like the way this looks.
And then the second plane hits the second tower. And that's not a small plane. And I call Diane in her hotel. "Get up and turn your TV on," I told her. "Something terrible is happening."
And she did. And we're both watching the Imus show when the crawl reports that the first plane was no small plane.
"The plane that hit the first tower believed to be AA Flight 11 out of Boston," it said, "to LAX."
"That was my flight," Diane says quietly. There is silence, 3000 miles of silence. What does one say after that?
Only later will we learn that Muhammad Atta, the mastermind and leader of the attack teams, was booked in seat 15A, four rows behind Diane's original seat.
The phone service is now being interrupted as Diane tries to call the office. Then realizes she's not going anywhere. No one is. And then she becomes a news reporter and heads downstairs and hires one of the limos that will no longer be going to the closed airports to take her as far down toward the Twin Towers as they can get. And she's off. All the way to where the smoke and fleeing New Yorkers are rushing up the streets out of the crash zone.
After talking to people there, it's off to the hospitals and triage centers quickly set up and staffed with all sorts of medical personnel and she listens to their stories. The LA Times will get no writers here to tell these stories and Diane is going nowhere. And there are no more sports for a while.
So she heads off to hear the stories of family members showing up with photos and descriptions of loved ones down to scars and operations. And they tell their hopeful stories of a missing father, mother, sister, brother, husband, wife.
And the longer she waits, the more she talks to the medical personnel, the more she realizes there will be no wounded, no victims needing treatment. A few make it out intact and no one else does. They're pretty much all gone. As the smoke and dust and the odor of death in the air makes clear.
This is tough duty. The stories are heartbreaking. The outcomes worse. And the reason for hope virtually nonexistent.
After a couple of tough days, Diane sees a hopeful moment -- a pickup basketball game that makes it clear there's still a special spirit here. And despite the overwhelming tragedy, she can write about that.
How the people left behind are going to survive and thrive and go about their lives and never forget and never give in.
As Diane does every year at this time.
"I'm in New York and it's 9-11 again," she called last night right after midnight. And the memories come flooding back. And the thoughts of "Why me, why did I get a pass and all those others did not?"
Of course it's a question without an answer.
The only answer is to keep going back. And keep remembering. And do what the folks on Flight 93 did when they had the chance and figured out what was in store for their hijacked plane.
They rose up and did what they had to do. As we all must.
As Diane, and the heroes to be honored at the Coliseum today, did -- and keep doing.
As we will when we never forget all the heroes of this day.
Dan Weber covers the Trojans program for USCFootball.com. You can reach him at weber@uscfootball.com.