Where are they now - Scott Lockwood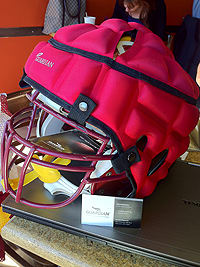 Former Trojan tailback Scott Lockwood is back home.
Back home in Boulder, Colo.
And back rooting up close for his Trojans now that the hometown Buffs are in the Pac-12 and USC will be visiting the Rocky Mountains regularly.
And back in football after four years as a speedy Trojan tailback from 1987 through 1991 on USC teams that had so much speed with guys like 1992 Barcelona double gold medalist Quincy Watts and Curtis Conway, they could come up with three elite 4X100 relay teams according to position groups.
And he's back, finally in the game he left after three seasons in the NFL -- and a final stint in Scotland with NFL Europe. Back doing something that a teammate of the late Junior Seau says he's proud and excited to have a chance to do in helping his old game through a crisis.
But first, a quick reprise of his NFL career.
"Drafted by New England in the eighth round (when they had eight rounds) after the 1991 season," Lockwood answers, "then traded to Detroit, then they waived me, picked up again by New England, then moved on to Seattle before being injured and going on IR," Lockwood says.
Wow, lots of back and forth over your career?
"That was the first eight weeks," Lockwood says with a laugh. Yes, his NFL career was an interesting, and something of a whirlwind time for the 196-pound running back and special teams guy who could fly. His best times were a 10.54 100 meters and a 4.34 in the 40.
"We could all run on those USC teams," he says. "Quincy Watts, Mazio Royster, Ricky Ervins, Curtis Conway, Calvin Holmes, Travis Hannah. And we all ran track."
When it came fall, they'd race in the "Trojan Olympics," with teams of defensive backs, running backs and wide receivers competing in relays, shuttles, cone drills, weights, jumping. But a construction accident cost him a part of his toe -- and would develop into a life-threatening staph infection that would result in knee surgery and cost him a final season at USC.
"I didn't play my last season but I did rehab all year and got to play in the Blue-Gray Game and the Japan Bowl," says the son of former Trojan John Lockwood, a defensive lineman in the 1964 and '65 seasons from Burbank who transfered back to USC when Colorado got in NCAA trouble.
Highlights from his USC career, he says, start with his starting as a freshman tailback in the Rose Bowl against Michigan State in 1988, scoring a touchdown against Notre Dame his first three years at USC, playing in the 1988 "1 vs. 2 game" against the Irish at the Coliseum and of course, that 45-42 USC win over UCLA in 1990 in the highest-scoring rivalry game ever that had Todd Marinovich hitting Johnnie Morton with a 23-yard TD pass with 16 seconds left to finish off a 42-point fourth quarter.
Lockwood's NFL career had him returning kicks and serving as the special teams wedge-buster for the Patriots for a time but his final year in the game, with the Scottish Claymores in NFL Europe that featured bad hotels and even worse food, convinced him that rather than go back to Atlanta to rehab after the season, he'd head home to Boulder.
A communications major at USC, Lockwood has always been involved in sales, whether it was a restaurant, real estate or now as the national franchise director for Camp Bow Wow, a Colorado-based string of 115 full-service doggy day-care, boarding and grooming operations that has four locations in Southern California -- Agoura Hills, San Clemente, Temecula and Anaheim.
But it's what he added to his plate three months ago that brings him back to his football roots. "It's the best of both worlds," he says of his new job of spreading the word nationally about the protective Guardian Cap concept for practice head protection to high schools, colleges, the NFL, and even or maybe most importantly, pee wee football.
Developed by an Atlanta-based company that has worked mainly in plastics for the military, Boeing, Oakley and even for the latest Titleist golf ball, the
Guardian helmet cover
is a lightweight (less than five ounces), waterproof, one-size-fits-all stretchable protective cap that pulls on over a player's helmet, protects the expensive helmets from scuffing, keeps heads cool in the heat and warm in the cold and retails for $69.95 ($59.95 team price) and cuts down the impact of blows to the head by as much as 35 percent.
"It's strange that no one out there, a Nike or someone like that, had ever come up with this," he says of the concept of using an impact-deadening gel in 20 cells over the helmet for practice.
"It's like the way linemen now wear those knee braces or getting your ankles taped every day for practice," says Lockwood, who remembers USC Coach Larry Smith coming by at the start of practice and making players roll down their socks to show they'd gotten their ankles taped. "It's like wearing a mouthpiece."
And its time has come, says Lockwood, who finds himself in a strange place when it comes to marketing his product with the NFL. "I'm one of the 2,000 players in the lawsuit," he says of the recently consolidated suit by former NFL players over the league's handling of head injuries.
To get the word to NFL players, Lockwood is "going through the players' agents," he says, and presenting it to them individually. With the new concussion syndrome regimen of withholding players from practice, the Guardian Cap could make it possible for players not to have to miss practice, he says.
In line with his new project, Lockwood has gone through a Pet-CT scan test developed by UCLA's Dr. Dan Silverman and his MindGenesis project that Lockwood would like to see all former football players take. "Right now, it's only done in two places in the U.S. and tests for Parkinson's, Alzheimers, dementia and ALS," he says.
All the tests are then read by Dr. Silverman and compared to the archived 6,000 brain scans he uses to determine changes and possible problems. "It's something the NFL, the NCAA, everybody who's been involved with football should put money aside to make sure that former players, when they leave the game, get tested," Lockwood says. The test costs anywhere from $3,000 to $5,000 and is often covered by insurance, he says.
"And I think USC has a great opportunity here to stand out as they always have in football," says Lockwood, who is sending samples of the Guardian Cap to AD Pat Haden and Coach Lane Kiffin and hoping for teams to start using them in practice on a trial basis.
"It's not so much for that one big hit," Lockwood says of his own wedge-busting days "going against three 280-pound guys. You knew who was going to win that one. But it's more about the everyday pounding players take, like the way linemen contact each other on every play. Over the years, that really builds up."
Which is what Lockwood hopes happens with the protective headgear cover. That it will build over the years -- and build in protection for the players.
Dan Weber covers the Trojans program for USCFootball.com. You can reach him at weber@uscfootball.com.