{{ timeAgo('2022-08-06 12:46:39 -0500') }}
football
Edit
Commitment Analysis: What Braylan Shelby's commitment means for USC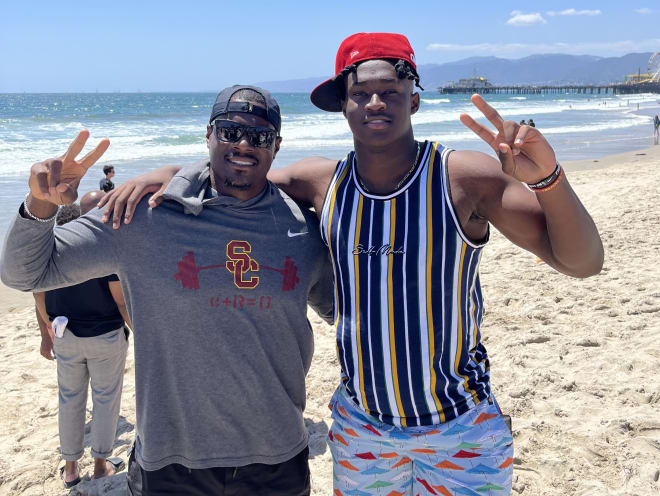 USC landed another major out-of-state Rivals100 prospect to help its ongoing defensive rebuild, as four-star outside linebacker Braylan Shelby (Friendswood, Texas) announced his Trojans commitment Saturday.
With Shelby and Rivals100 linebacker Tackett Curtis (Many, La.), the Trojans reeled in two of their top priority targets on the defensive side, showing Lincoln Riley's impact resonates beyond just the offensive skill position players USC has loaded up on so far in his short tenure.
USC jumped to No. 13 in the Rivals recruiting rankings with Shelby's commitment. He's the 15th overall commit with one third of those now coming from the Rivals100 -- in QB Malachi Nelson (No. 4 overall national prospect), WR Zachariah Branch (No. 17), Curtis (No. 61), WR Makai Lemon (No. 71) and Shelby (No. 83) -- with RB Quinten Joyner (No. 115) just outside the top 100.
Shelby is the sixth defensive commit in the class and the second of the week, following three-star cornerback Maliki Crawford.
He is also the fourth commit from Texas, along with Joyner, fellow four-star RB A'Marion Peterson and four-star CB Braxton Myers, showing the Trojans' aggressive efforts in the Lone Star State have paid off.
RELATED: Braylan Shelby explains why USC beat out Texas in his recruitment
What it means for USC ...
The Trojans were basically starting over at outside linebacker or rush end, as the staff calls the position, with none returning from last season. Moving former five-star prospect Korey Foreman to that spot was a natural move, but landing Auburn transfer Romello Height (a third-year sophomore) and now adding Shelby as a commit, makes that one of the strongest position groups for the next couple seasons (not even factoring in who else will be added in time).
Height has two more years of eligibility remaining after this season if he takes them and Foreman will also have two, meaning it's possible all three of those guys are together for a couple of seasons. It's also possible they're not, but that's why you keep bringing in top talent on top of top talent.
Also, fans were bemoaning the early returns from the big June 17-19 recruiting weekend. Well, it's now resulted in at least two commitments -- and big ones as the Trojans held off in-state Texas to reel in Shelby and landed offensive guard Micah Banuelos, one of the top OL on the West Coast. They also landed commitments from all four of the visitors who came the previous week (Curtis, OL Tobias Raymond, DE Grant Buckey and TE/H-back Kade Eldridge).
This class is coming together. Every team ranked higher than USC right now in the Rivals rankings has more commitments, so the Trojans should keep climbing as they fill out the final pieces of this class.
Film Room
Breakdown by Rivals analyst Nick Harris
Shelby is an explosive defender that uses his verified athleticism (44-foot-9.25-inch triple jump) to explode off the line and make violent plays at the point of attack. His range allows him to cover a lot of space around the edge towards the boundary, and his speed will allow him to keep pace with elusive backfield threats.
His physical profile is one of the more impressive in the entire country as he looks like a developed college player heading into his senior year of high school.
Playing outside linebacker for Friendswood last season, Shelby totaled 77 tackles including 12 for loss and eight sacks. He also recorded five pass breakups, four forced fumbles and one pick-six. His skillset will allow him to impact the game in multiple ways in an edge role at USC.