Highlights from the weekly live chat with former USC QB Max Browne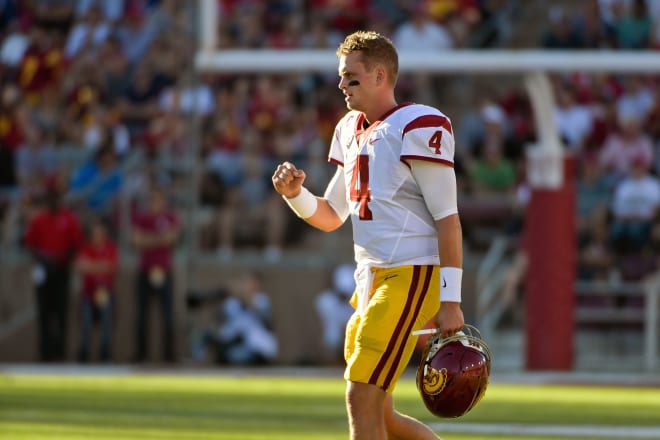 Former USC quarterback Max Browne has joined TrojanSports.com this fall as an analyst, sharing his insights and expertise on all things Trojans football.
In addition to co-hosting the Trojan Talk podcast twice a week, Browne is doing a weekly live chat with subscribers every Thursday.
Here were a couple of the more interesting topics covered in the debut edition:
Q: Everyone calls Tee Martin's offense the Gumbo. Since you were inside that room, how complicated was that offense? Did it rely on hero ball or was it just several identities wrapped up?
Browne: "Tee's offense was not overly complex. Air Raid is as 'basic' as it gets. So relative to that it's going to be complex, but by no means was Tee's offense some daunting task to get the hang of."
Q: Who will be the leading receiver in terms of catches and yards this season? Will it be someone different leading both?
Browne: "When I got benched in 2016, you better believe Tyler Vaughns and I on scout team was the best air attack that secondary saw the rest of the year haha! Always will pull for #21 and think he will have a big year. Pittman is a straight beast, though. I think he might be the most underrated WR nationally."
Q: Of all the players you played with at 'SC, who did you admire most and why?
**Read that response and many more on Trojan Talk**
Not subscribed? Now's a great time to join. We're in the final days of our preseason promo where you can take 25% off an annual subscription AND we'll give you a $75 eCard to spend at the Adidas store. Get free gear and premium access to our in-depth Trojans football coverage all for one low price (while supplies last!).
--> Follow this link for instructions on how to take advantage of the promo (must use code "adidas")