Taking stock of USC's 2021 recruiting class: Defensive backs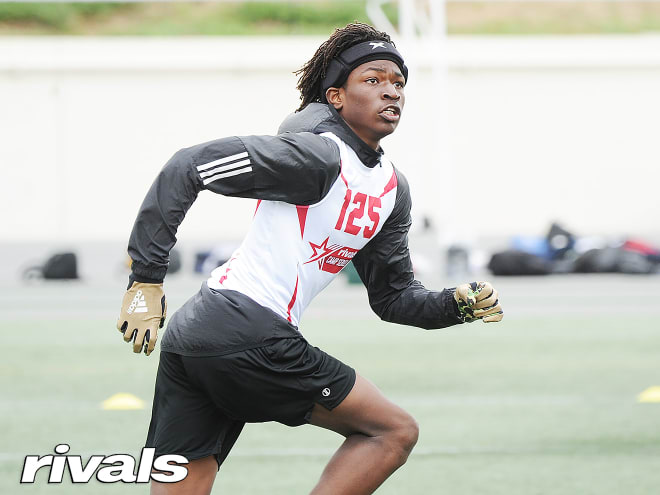 Aside from quarterback, defensive back is arguably USC's greatest position of need in this 2021 recruiting class, and -- along with QB -- is also the Trojans' greatest recruiting success so far this cycle.
USC presently has five 4-star DB commits all ranked within the Rivals250, reflecting a total turnaround of fortune after coming up empty at both safety and cornerback in the 2020 recruiting class.
In Muir High School standout Calen Bullock (No. 5-ranked safety, No. 119 overall prospect nationally), Narbonne HS's Anthony Beavers (No. 12 ATH, No. 199 overall) and Warren HS's Xamarion Gordon (No. 10 safety, No. 228 overall), the Trojans addressed their safety needs early and in full while both keeping some top local prospects home and finding guys they felt specifically fit new coordinator Todd Orlando's defense.
RELATED: In-depth conversation with 4-star USC cornerback commit Prophet Brown
New safeties coach Craig Naivar made a strong recruiting splash while cornerbacks coach and general ace recruiter Donte Williams played the lead role on Beavers and a key collaborative role with Bullock as well.
Williams then eventually checked off his needs at cornerback, landing versatile 4-star Bishop Alemany prospect Jaylin Smith (No. 10 ATH, No. 195 overall) and winning a major recruiting battle with Oklahoma and others for 4-star Prophet Brown (No. 11 ATH, No. 197 overall), from Monterey Trail HS up north in Elk Grove, Calif.
That essentially satisfies USC's needs in the defensive backfield for this class, though the Trojans have room for another cornerback if they are able to reel in another top target.
We take a closer look at where those efforts stand and go through an extensive film room review on each of the five commits.
Safety Calen Bullock
Committed: April 18
How he fits USC's needs: The Trojans don't have clear, no-doubt successors lined up to replace veteran starters Talanoa Hufanga and Isaiah Pola-Mao when they move on (whether that's after this season or the next), and Bullock looks like a natural playmaker who could quickly compete for a major role once he gets to campus.
Film room evaluation by TrojanSports.com's Alec Simpson: "Bullock is a long and rangy safety checking in at 6-2, 170 pounds, and is high-level recruit with his size, athleticism and the ball skills that he brings to the position. He has a large frame that will surely be able to add weight at the next level. Bullock already does a great job tracking the football in space and puts his impressive athleticism to use in being able to make plays on the ball in the air. For that matter, he's an absolute ballhawk who showed it during his junior season with 6 interceptions, and he has the ability to truly make opponents pay for their mistakes. (Fast forward to 0:14 on the video as he took an interception back to the house from 100 yards out.)
All that said, there are still areas in his game that need improvement. I'd like to see Bullock more of a factor in run support, which will come with more strength being added at the next level. But the Trojans picked up a playmaker that with some time in a Pac-12 weight room will be making plays in the Coliseum sooner than later."
Rivals analyst Adam Gorney's scouting report: "What I love about Calen Bullock is his length. He reminds me of Marvell Tell. He is super long and super bouncy and super athletic. He's played cornerback at camps where I've seen him do very, very well. I think long-term he's a safety. I would want to see more of him in games just to see how much he wants to come down and hit people, but in terms of athletic safeties in the country, there are not many that match up with him. He really does remind me a lot of Marvell Tell at the same stage." (Read more in our Commitment Analysis series)
Cornerback Prophet Brown
Committed: July 19
How he fits USC's needs: USC's most recent commit was a glimpse into Williams' recruiting ability. By all accounts -- including Brown's own -- the Trojans were not in the driver's seat at all in his recruitment until the week leading up to his commitment when Williams really closed the deal, selling Brown on the opportunity to come in and make an early impact. Initially pursued by programs -- including USC -- as a running back commit, Brown has the athleticism desired at the cornerback position and showed flashes of his potential there even though he wasn't targeted often last season. With the Trojans' current CB triumvirate getting older -- Olaijah Griffin and Isaac Taylor-Stuart are now in their third year of eligibility while Chris Steele is a sophomore -- the Trojans needed to replenish at this spot and set up the foundation for the future. Brown will join a competition that also includes Dorian Hewett, Jayden Williams and Adonis Otey, who are also looking to position for bigger roles as the depth chart clears out at the top in time.
Film room evaluation by TrojanSports.com's Alec Simpson: "Brown will be making the transition full-time to defensive back at the next level after doing a little bit of everything for his high school team. He has been an elite running back at the high school level, averaging 12.2 yards per carry last season (779 rushing yards and 11 TDs, according to MaxPreps) and 20.2 per reception (17 catches for 343 yards and 5 TDs). But with his size and skill set, he fits best at the defensive back position at the next level. Brown does a great job of staying patient out of his back peddle, especially at 0:35 on this highlight tape where his timing to break on the football was perfect to make the play and turn an interception for a touchdown. He plays with a high level of energy and passion which reflects well on tape with his competitiveness.
"Brown is an absolute beast in the weight room and it shows on film with his explosiveness at the running back position as well as his ability to jam receivers at the line of scrimmage. Brown should be somebody USC fans will see coming in making an immediate impact."
Rivals analyst Adam Gorney's scouting report: "I think a lot of guys want to play offense just because it's more glitz and glamour, but long-term a lot of those guys fizzle out and it's the defensive guys, the athletes who really shine in those settings. So I think it's a very smart move by him to move to defense, he's really good at corner, he can make an impact there, he's very instinctive, he's aggressive, he plays with a lot of confidence on both sides of the ball. ...
"He hasn't been tested against elite receivers at the high school level. He plays in Northern California, which has some quality players and Division I guys, but at USC and the aspirations they have, it's Pac-12 championship and going to play in the playoffs. So he does not see that level of talent in Northern California. I think that's the one question mark about him, but in terms of his talent, I think he can bait quarterbacks to throw bad passes and he can step in front of them. He's aggressive and fearless -- that's what I like. He doesn't take too many chances, he doesn't bite on a lot of plays, but no one is going to run by him because he has great speed, and then he's fearless enough to go after the ball, attack it, step in front of receivers and make plays that way. He's kind of a play-making cornerback where he's going to make something happen over there. If people are going to test him, he's going to make them sorry that they did. I think that's the big thing in his game. I would just like to see him against really elite, high 4-star, 5-star receivers to see if he can get away with some of the things he tries to do." (Read more in our Commitment Analysis series)
You must be a member to read the full article. Subscribe now for instant access to all premium content.
Members-only forums

Predict prospect commits with FanFutureCast

Exclusive highlights and interviews

Exclusive coverage of Rivals Camp Series

Breaking recruiting news